We Owe What Episodes
The Russo Family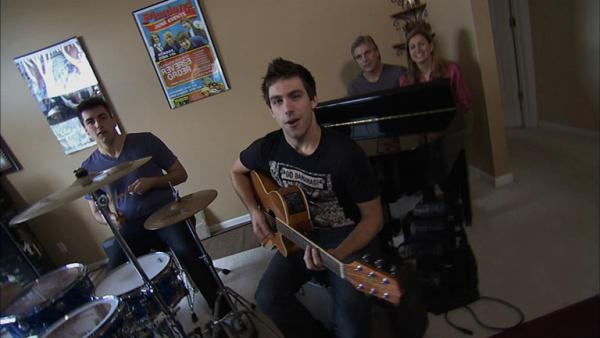 The Russo family had it all but changes in their jobs and the economy left their bank account singing the blues. With their sons' band constantly upstaging their finances, Cindy and John are left with bills that are off pitch. Can Mary help the Russo family tune into their money woes?
For Cindy and John Russo, nothing is more important than the happiness of their two sons and the success of their band -- even if that means their finances are left playing second fiddle.
John often leaves Cindy in the dark about the bills, and carries the burden on his shoulders. And, though John's intentions are good, his actions only lead to money miscommunications and marital turbulence. With a past investment gradually eating away at their finances, the Russo family needs to band together to sing a new financial tune -- and fast.
Mary helps the Russo family realize that they are the classic American story right now, and that they are not alone in their struggles. Her rules are designed to help them share the money burden, teach their sons how to be financially independent and address past mistakes. But one of Mary's rules hits home for Cindy.
Over the years, Cruise and John have accumulated a lot of equipment, most of which mom and dad paid for. Though the duo work part-time jobs, the money they make goes into the band, rather than paying their parents back.
Mary brings light to the band's financial standing and gives them the option to become financially independent. Click here to see the band's budget.
Cindy gets fired up when John shares financial secrets. She had no idea that they had credit card debt.
And, when a past investment is brought up, emotions run high. But Mary helps them work through the financial hurdles and share the money stress. Ultimately, Mary prepares the Russo family for a new chapter in their lives. Now it's up to Cindy and John to turn the page.