We Owe What Episodes
The Carolus Family: Big Spenders on Small Budget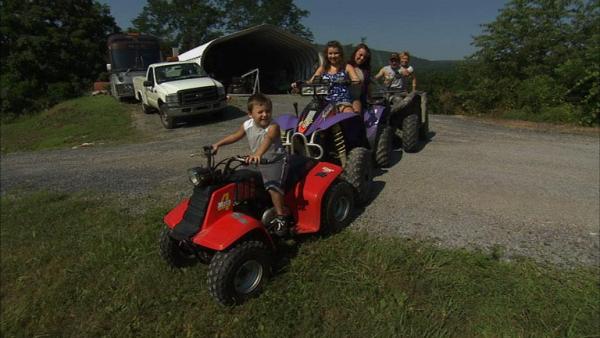 The Carolus family are big spenders on a small budget. Tammy and Ed are caring parents who would do anything for their family and friends -- and that includes funding their three talented children on their quest for fame. The Carolus family knows how to dream big and spend a pretty penny but Mary is about to put the spotlight on their finances.
Click here to get a few tips for making a five-year plan
Ed, who works in construction, believes in saving for a rainy day; while Tammy, who works for the government, believes in using the cash to live life to the fullest. She even drives a Jaguar.
Tammy is banking on big-time fame from her children to reimburse the excessive spending. With a dancer, a race car driver, and a wrestler at hand -- all the kids need is their big break! Tammy has bought a fully stocked tour bus to be prepared for the big moment. But will that moment come before their bank account crashes and burns?
Tammy and Ed hit the jackpot when it comes to love. But their current lifestyle has them gambling with their future. They need a reality check, and Mary is there to give it, revealing the biggest dream buster of all.
But Mary believes they can still have their Hollywood ending -- it's just going to take planning. By spending on the trappings of fame (like the tour bus), the Carolus' are putting the cart before the horse. They need to reign that spending in and plan for what's really important, like having more time together.
Mary tells Tammy and Ed that she wants them to write money love letters to each other so Ed understands why Tammy wants to spend and Tammy understands why Ed wants to save.
In the hopes of propelling her kids to fame, Tammy bought an elaborate and expensive tour bus. Mary thinks she should sell it.
Tammy agrees to roll with the rules. But even Tammy is surprised when she hears what her children most want to do. Race car driving may not be the priority she thought it was.
Mary wants the Carolus family to change their money mentality -- which really hits home for Tammy. And, a final rule leads her to nearly break down. She feels that planning her spending will take the fun and the sunshine out of her life. Mary does her best to console Tammy and explain why her current lifestyle could crush her dreams, instead of make them come true.
Before Mary leaves, she gives Tammy and Ed a sweet surprise of a weekend getaway.