We Owe What
Mary Caraccioli
Host of We Owe What?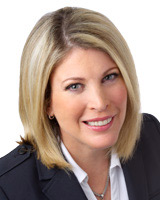 Mary Caraccioli, MBA, is an EMMY award winning financial journalist who is the host of the national money reality show We Owe What produced by 6ABC WPVI-TV, airing on the Live Well Network and weekends on ABC owned and operated stations in the nation's top television markets. Mary has a track record for creating award-winning programs for broadcast, cable and digital mediums.
Mary's financial journalism career started at CNBC, financial TV's industry leader. She later helped renowned business broadcaster Lou Dobbs, launch his nationally syndicated radio show The Lou Dobbs Financial Report and worked for several years as its lead content producer. Mary also created EMMY award winning live shows Good Day Philadelphia on FOX-TV and Money Matters Today for Comcast and the money magazine show Mary Talks Money for WPVI-TV/ LiveWell TV. She is the founder and lead contributor of the respected personal financial website MaryandMoney.com.
Mary enjoys writing and her articles have been published in several magazines and prestigious newsletters. She has also served as keynote speaker, panelist and moderator for many national and regional conferences.
Her commitment to the community runs just as deep. Mary is a member of the Board of Directors Executive Committee of the Global Interdependence Center, an international finance think-tank and the Delaware Financial Literacy Institute, one of the nation's most comprehensive financial literacy non-profits. Mary has earned an MLA from the University of Pennsylvania and an MBA from Drexel University's LeBow College of Business and BA from the University of Pittsburgh.