Recipes
Vegan Chili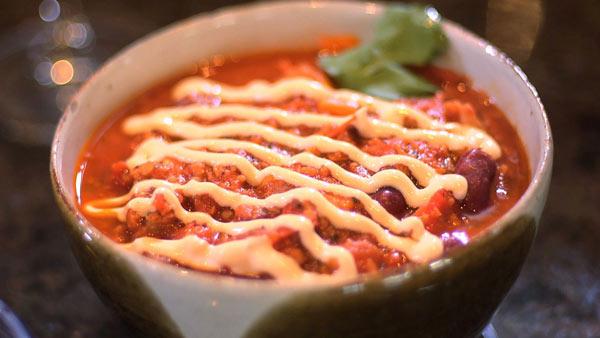 1 scant tbsp. chili powder
1 tbsp. basil
1 tbsp. oregano
1 tbsp. ground cumin
1 tea. freshly ground black pepper
1/2 tea. cayenne pepper
1/4 tea. sea salt
3 tbsp. olive oil
1 med. onion diced into small pieces (2.5 cups)
3 cloves garlic, pressed
2.5 cups seitan (pronounced say-TAN) or other meat or meat substitute
1 - 6 oz. can tomato paste
1 cup water*
6 cups roma tomatoes (12 whole tomatoes), seeded and diced*
6 cups beefsteak tomatoes (4 whole tomatoes), seeded and diced*
2.5 cups sweet peppers, seeded and diced (yellow and orange for a pop of color)
2 - 15 oz. cans dark red kidney beans, drained and rinsed
Directions
Mix spices first in a small dish and set aside.
Add oil to a large pot and heat on medium-high heat until the oil is warm and fragrant. Add diced onions to pot and stir to coat with olive oil. Continue cooking until onions are translucent, about 5 minutes, stirring frequently.
Reduce heat to medium and add pressed garlic and stir.
At this time you can add your seitan (click here for the recipe) or other meat substitute if desired - you can also leave it out as well. Stir well to combine all the onion, garlic and oil with the meat.
Add tomato paste and water and stir. Sprinkle on your prepared spices and stir.
Add all 12 cups of freshly chopped tomatoes (*or you can also use 6 - 15 oz. cans of diced tomatoes and eliminate the 1 cup of water). Stir well and reduce heat to low and cover.
Prepare your sweet peppers while the tomatoes, meat and onion mixture simmers. Add sweet peppers to your chili and stir.
Lastly, add your prepared kidney beans stirring one last time.
Don't worry if the mixture looks dry, as it cooks it will produce its own juice. The longer it cooks, the more the flavors will come out. Allow 2 to 4 hours to cook on low heat, covered, stirring every 20-30 minutes.
Serve immediately or cool and freeze for future use.
Top with cashew cream. Click here for the recipe.