Recipes
Shrimp Pesto Crostini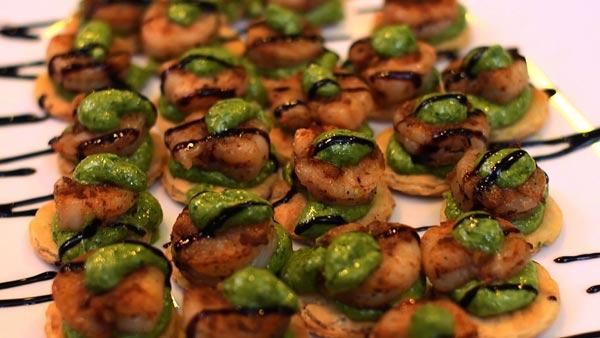 Servings: 24
Difficulty: Easy
Time:
Provided by: Jonathan Sara
Shrimp (Cooked and Cooled) (Recipe Below)
Pesto (1 cup) (Recipe Below)
Mayonnaise (1/3 Cup)
Pita or Flatbread (2-3 Pieces)
Crushed Garlic (1 Clove)
Olive Oil (2-3 Tablespoons)
Kosher Salt (1/2 teaspoon)
Fresh Cracked Pepper (1/4 teaspoon) (about 10 turns)
Balsamic Glaze or Reduction (For Drizzling)
Directions
Preheat oven to 350 degrees.
Cut out 24 circles of Pita bread using a cap from a spice jar or seasoning container. Place the cut pieces on a sheet pan. In a small bowl combine the crushed garlic, olive oil, salt and pepper. Brush each piece with the garlic/oil mixture and place in the oven for approximately 10 minutes, or until golden brown and crispy. Set aside on a plate to cool.
Combine the pesto and mayonnaise in a mixing bowl with a whisk. Spoon the mixture into a squeeze bottle if you have one.
Using the squeeze bottle or small spoon, add approximately a teaspoon of the pesto/mayo mixture onto the pita disc. Then place a piece of shrimp on top, and top off with a little more of the pesto/mayo mixture (approximately a ½ teaspoon). Repeat for all 24 Crostini, arrange on a plate, and drizzle with the balsamic glaze.
Shrimp
Ingredients:
24 Small Shrimp (Peeled, Deveined, and Tail Removed)
Olive Oil (3 Tablespoons)
Seafood Seasoning (1 Tablespoon)
Directions:
Dry the shrimp with a paper towel. Place shrimp, olive oil, and your favorite seafood seasoning in a mixing bowl and toss until all shrimp are nicely coated. Sear Shrimp in a large skillet on medium/high heat. About 2-3 minutes per side. When cooked place on paper towels to absorb the excess oil and let cool.
Pesto
Ingredients:
Baby Spinach Leaves (1 Package) (5 oz)
Fresh Basil (12 - 15 large leaves)
Olive Oil (Approx 1 Cup)
Garlic (2-3 Cloves)
Parmigiano Reggiano Cheese (1 Cup) (Cut into small cubes)
Pine Nuts (1 Cup)
Juice of 1 Lemon
Kosher Salt (1 teaspoon)
Fresh Ground Pepper (1/2 teaspoon) (About 10-15 turns of a pepper grinder)
Directions:
Place pine nuts in a dry small saucepan on low heat. Toast for approximately 10 min until brown, making sure to toss them frequently so they do not burn. Take the pan off the heat and set aside to cool.
Put half of the olive oil, Parmigiano Reggiano, pine nuts, and baby spinach leaves into a blender or food processor. Add all of the garlic, basil, lemon, salt, and pepper. Then add the remainder of the olive oil, Parmigiano Reggiano, pine nuts and baby spinach leaves creating a layered effect.
Start by pulsing the blender on chop or mix, and work your way up to blend & higher settings. You will need to stop frequently to scrape down the sides and push the non-blended ingredients to the bottom. Continue to blend until the mixture becomes the consistency of a smooth/loose paste. If it seems too thick, add more olive oil. Do not over blend as the oil will emulsify and become too thick.