Recipes
Pineapple Coconut Cupcakes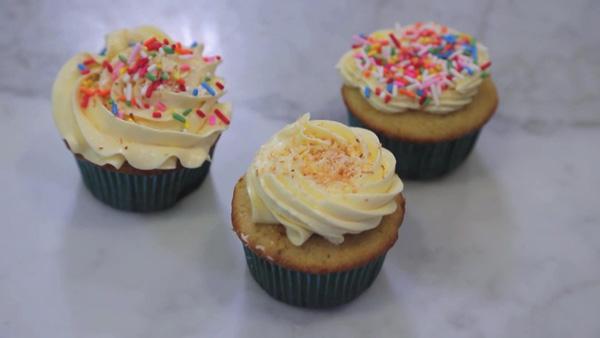 Servings: 18 to 20
Difficulty: Medium
Time:
Provided by: Shanna Schad
1/2 c (1 stick) unsalted butter, softened
1 c granulated sugar
1 t pure vanilla extract
3 large eggs, room temperature
1 3/4 c all-purpose gluten free flour
1 3/4 tsp t baking powder
3/4 tsp baking soda
1/2 tsp kosher salt
1 tsp vanilla extract
3 tsp pineapple simple syrup
3/4 c coconut milk
1 c crushed pineapple (drain off excess juice)
Coconut Italian Meringue Buttercream (recipe below)
Directions
Preheat oven to 350 degree F. Prepare two muffin tins with paper cupcake liners.
1. In a small bowl whisk together the flour, baking powder, baking soda and salt. Set aside!
2. In a bowl of a stand mixer cream together the butter and sugar until light and fluffy, 2 - 3 minutes. Add in the eggs one at a time. Scrape down the sides when needed. Add in the vanilla extract and simple syrup and mix again until fully combined. Alternate adding in the flour mixture and the coconut milk until just combined. Don't over mix. Fold in the crushed pineapple.
3. Divide the batter evenly amongst the muffin tins, filling each about 2/3 of the way full. Bake for 16-18 minutes or until the tops bounce back when lightly pressed.
4. Let cool for 2 minutes in the pan then carefully remove to a wire rack to cool completely before frosting!
Coconut Italian Meringue Buttercream
4 egg whites
1 cup sugar
pinch salt
2 cups butter ( 4 sticks), cool and cut into tablespoons sized pieces
1/4 c coconut milk
2 tsp coconut extract
toasted coconut
1. Set a pan of water over medium low heat and bring to a simmer.
2. In a bowl of a stand mixer add the egg whites, sugar and salt. Set the bowl over the pan of simmering water, making sure the bottom of the bowl isn't touching the water, and whisk for 6 minutes or until the mixture reaches 140 deg f on a candy thermometer.
3. Working quickly, place the bowl back on the stand mixer and attach the whisk attachment. Slowly raise the speed to high and whisk on high for 7 minutes or until the bottom of the bowl is cool to the touch.
4. Add in the butter one tablespoon at at time letting the mixture whisk a few seconds inbetween each addiction. Once all the butter is mixed in, stop the mixer, scrape down the sides with a spatula and whisk on high for 2 minutes.
5. Add in the coconut milk and coconut extract and mix again on high until well combined.
6. Frost the cooled cupcakes with either a spatula spreading the buttercream on or use a pastry bag fitted with an open star tip.
7. Sprinkle toasted coconut on top of the cupcakes. Serve at room temperature.
Recipe developed by Shanna Schad, www.pineappleandcoconut.com.