Recipes
Mango Chicken Grilled Flatbread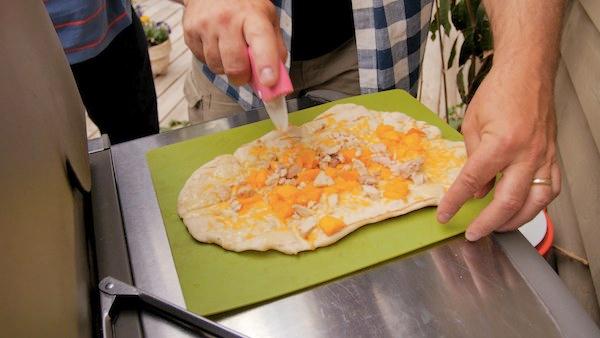 Servings: 4-6
Difficulty: easy
Time:
1 cup water
1 spoonful active dry yeast
1 spoonful sugar
1 spoonful salt
3 cups bread flour
olive oil
Garlic salt
Parmesan Cheese
Chicken, Mango and other toppings
Directions
1. Measure our 1 cup hot water (105 degrees) Add 1 spoonful yeast and a sprinkle of sugar. Stir. Set aside for 5 minutes. 2. In a large bowl combine 3 cups bread flour, 1 spoonful salt, 1 spoonful sugar and 1 spoonful olive oil. Stir to combine. 3. After 5 minutes make sure yeast has turned foamy then add to flour mixture stirring until combined. 4. Pour mixture on counter top and knead for 5 minutes, folding over then pushing down until dough is smooth in texture. 5. Form into a ball, coat with olive oil, put back in bowl and cover with plastic wrap, poking holes in the plastic for the yeast to breath. Set aside for 1 hour to 4 hours. Make sure it's doubled in size. 6. Get topping ready. 7. Clean and light grill, using medium heat. 8. Roll out flatbread and place on grill. Brush top with olive oil and sprinkle with garlic salt. Close lid and let cook for 1 minute. 9. Once bread has started to bubble, flip over and brush with olive oil and sprinkle with garlic salt. 10. First put down parmesan cheese then other toppings like chicken and mango. Close lid and cook for 1 more minute until cheese is melted. 11. Remove and slice. Serve hot.