Recipes
Kalbi (Korean Barbequed Beef)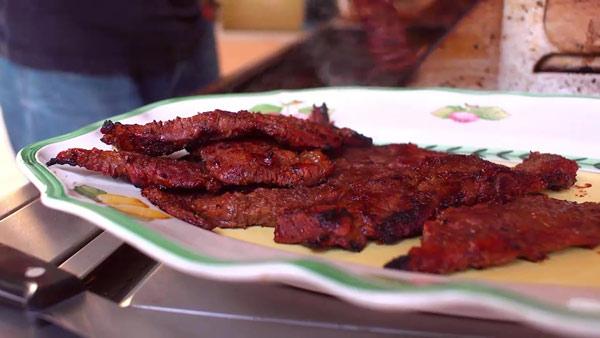 Servings: 4-10
Difficulty: Easy
Time:
Provided by: Margot Kim
5-10 lbs beef short ribs
8 oz Memmi Noodle Soup Base by Kikkoman
1 cup sugar
5-6 Tbs. fresh ground pepper
1/2 cup corn syrup
1/4 cup sake
1/4 cup sweet cooking rice wine
1/4 cup plum extract
1/4 cup sesame oil
5-6 Tbs. chopped garlic
1 onion, peeled and cut into chunks
1 Korean pear, peeled, cored and cut into chunks
Directions
1. Combine all ingredients and liquefy in blender. Set aside.
Click here for plum extract recipe
.
2. Soak ribs in cold water for 1 hour to remove blood from meat, changing the water once during the hour.
3. Drain ribs. Trim excess fat.
4. Soak ribs in blended marinade for 24 hours. (Quicker marinade time: 5-6 hours).
5. Grill meat.