Recipes
Hungarian Pork Chops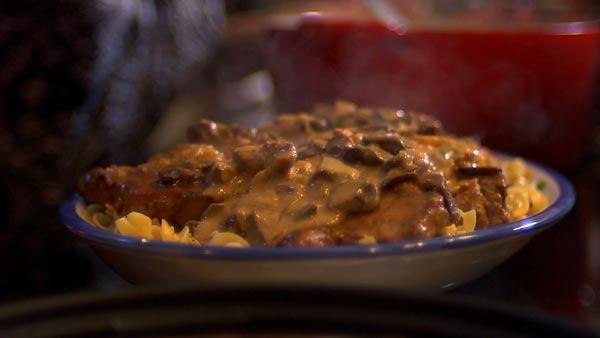 Servings: 8
Difficulty: Intermediate
Time:
Provided by: Carnie Wilson
8 thinly cut pork chop ( bone in gives more flavor)
5 tablespoons butter, dived by 2, 2 and 1 tab
1/2 cup all purpose flour
2 tablespoons Hungarian Sweet Paprika
1 teaspoon salt ( pink Himalayan, or sea salt)
1 teaspoon fresh black pepper
1 teaspoon onion powder
1/2 teaspoon dried dill
1 cup sour cream
1 -2 cups chicken broth
1 cup white wine
1/2 cup warm water
1/2 lemon
1 lg Spanish onion, sliced into rings
3 cloves garlic, minced
1/2 cup sauerkraut, rinsed and drained
1 1b. Mushrooms, sliced
1 tablespoon fresh chopped dill (for garnish)
1 bag wide egg noodles
Poppy seeds ( 1/ 4 teaspoon)
Directions
Preheat the oven to 350 degrees.
Mix the flour, one tablespoon of the paprika, salt, pepper, onion powder, dried dill in a big grocery paper bag. Shake up the ingredients to mix. Place the chops in them and then shake around like "shake and bake" to toss and coat the chops with mixture. Save the bag after.
Heat a huge skillet, add 2 tablespoons of butter and when it sizzles add the chops to the skillet. Saute over medium heat until brown on both sides (about 3 minutes per side.) Don't crowd pan while sauteing -- saute in two batches adding more butter if necessary. Remove the chops and place in a large heavy covered Dutch oven.
In the skillet, add the remaining two tablespoons butter and then add the onions and garlic, stirring and cooking. When getting soft, add the mushrooms and cook for two minutes. Pour the veggies over the chops in the pan. In the skillet, add the other tablespoon butter and sprinkle with the flour and then sprinkle any remaining seasoning left over from bag that you tossed the chops with. Using a whisk, Scrape up the bits and mix. Then, add a cup of chicken broth, the wine, the warm water and break up all the loose bits stuck on bottom of pan. Let it simmer for about two minutes. Add the lemon juice. Add the sauerkraut and the other tablespoon paprika to the sauce and stir to combine. Test for seasoning and thickness. If it's too thick, add water or broth, test for saltiness, stir in the sour cream, but don't scream, yourself. How good does it look? LOL.
Pour mixture over chops, lifting them slightly so everything gets a little sauce! Bake the covered casserole for 1-1/2 hours or until chops are totally tender and falling off bone.
Prepare the noodles according to package directions.
Toss the noodles with a tablespoon of butter and the poppy seeds.
Put noodles on a large serving platter. Spoon a little sauce with onions and mushrooms on the noodles. Place the pork chops on the noodles, in any pattern you'd like. Then pour all the sauce on top of chops and sprinkle with the fresh dill. Serve family style and enjoy!
See the good in people!