Recipes
Homemade Pizza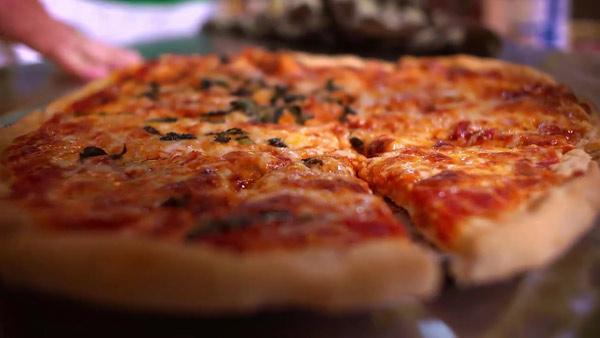 1/4 cup whole wheat flour
3 cups all purpose flour
1 packet of dry yeast
1 1/4 teaspoon salt
1/4 teaspoon sugar
2 tablespoons olive oil + more for brushing onto dough
1 1/2 cups warm water
1 box of Cornmeal
Basil 6 fresh organic leaves
Honey
Garlic 8 fresh peeled cloves minced
Mozzarella cheese 1 pkg
Directions
1. Pour warm water into a bowl sprinkle in the yeast and let stand for 5 minutes.
2. Mix whole wheat flour, all purpose flour, salt, sugar, olive oil in a large bowl. Then stir in the water and yeast mixture until all water is absorbed and you have a sticky dough mixture.
3. You may need to add a little extra flour or olive oil as needed so keep it handy on the side.
4. Once you have mixed everything together you will have a sticky ball of dough. You will need to put your hands in the bowl and pat together to create a round shaped ball.
5. When you have kneaded your ball of dough to a nice shape place in the bowl brush the entire ball with olive oil, cover the bowl with a damp cloth and place into a dark place such as a cabinet or do what I like to do and grab a black garbage and wrap the bowl inside it will make the dough rise quicker.
6. Once wrapped leave it to set for at least 2 hours.
7. After 2 hours, sprinkle flour onto a large surface. You can cut the dough into 2 pieces cover with a towel and let sit for 15 minutes.
8. Turn your oven to 450 degrees.
9. Now you are ready to roll! Using a roller you want to roll out the dough and form a nice round circle, you will add flour as needed so it is not sticky, watch for holes in your dough, practice makes perfect, you want to form a nice round circle for your pizza pie.
10. Sprinkle cornmeal on the Peel. This is to help get your pizza into the oven and off the pizza stone.
11. Place your dough onto the peel.
12. Now you can coat the dough with pizza sauce. Start from the center and work in a circle leaving the edges not coated for your crust.
13. Drizzle honey over the sauce, then sprinkle in the garlic, add the mozzarella cheese, then top of with fresh cut basil leaves.
14. Place in the oven onto the Pizza Stone, let cook for approximately 8-10 minutes depending on the size of the pizza.