Recipes
Coconut Macaroons (with or without BACON)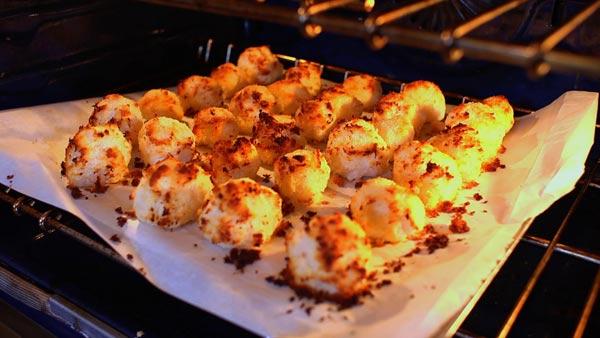 Difficulty: Easy
Time:
Provided by: Foodee Project
1 bag of Shredded Coconut (8oz)
2 Tablespoons Honey
5 Egg Whites
1 teaspoon Salt
Directions
In a mixing bowl, add egg whites, honey and salt. Using an immersion blender, combine ingredients until they mixture becomes frothy. Fold in shredded coconut. Once fully mixed, cover the bowl with plastic wrap and refrigerate for 1 hour.
Preheat oven to 350.
Line baking dish with parchment paper and begin to roll the chilled coconut mixture into 1-inch balls, and place them in the baking dish. Bake macaroons for 15-20 minutes, or until the bottoms have started to brown. Let them cool for 10 minutes before serving.
*For an added, added 1/3 cup of chopped, cooked bacon to the coconut mixture before we refrigerated. Once chilled, follow the same steps as listed above and enjoyed a sweet and salty twist on this dessert!
For more paleo and primal friendly recipes visit thefoodee.com.