Recipes
Cilantro Lime Chicken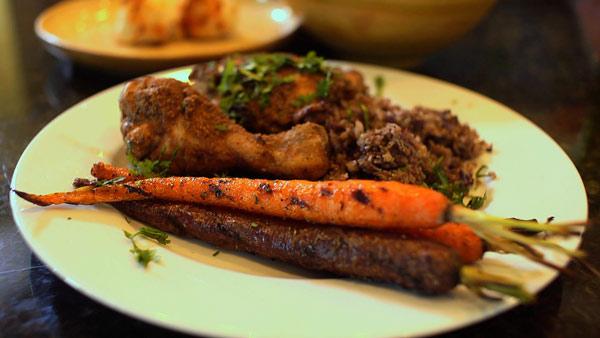 Difficulty: Easy
Time:
Provided by: Foodee Project
Lime (1-2)
Cilantro, fresh (2 tablespoons)
Zucchinis (8)
Bone-in, Skin-on Chicken thighs (4)
Bone-in, Skin-on Chicken Drumsticks (4)
Coriander (5 tablespoon)
Cumin (5 teaspoon)
Sea Salt (3 teaspoons)
Black pepper (2 teaspoon)
Olive oil (3 tablespoons)
Directions
Preheat oven to 375 degrees.
In a small bowl mix: Corriander, Cumin, Salt, and Pepper.
Evenly coat the each side of the chicken thighs and drumsticks with spice mixture. Heat 2T olive oil in skillet until it begins to "pop." Place 2-4 pieces of chicken in to the skillet, skin side down, and pan-fry for 2-3 minutes, or until skin is crispy and brown. Repeat with the remaining sides, adding more olive oil as needed.
Once pan-frying is complete, place thighs into a baking dish, skin side up, and put them in the oven to cook for 30-40 minutes.
Remove from oven once internal temperature is 165 degrees, or until the chicken is no longer pink inside. Garnish with chopped cilantro and a squeeze of lime.
For more paleo and primal friendly recipes visit thefoodee.com.