Recipes
Baked Ziti Pizza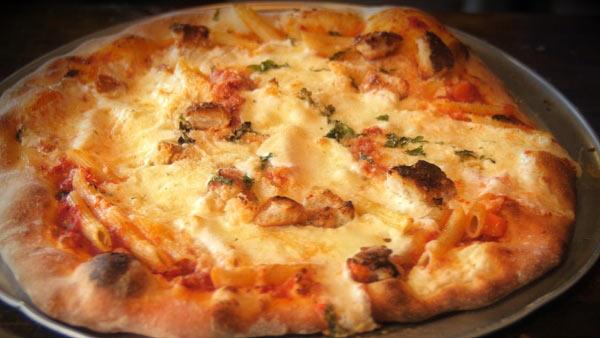 Difficulty: Easy
Provided by: Mike Hauke/ Tony Boloney's
Pizza Dough
Tomato Sauce
Cooked Penne Rigate
Ricotta Cheese
Pecorino Romano Cheese (grated)
Fresh Mozzarella Cheese
Breadcrumbs
Parsley
Crusty bread -- broken into small chunks
(amounts depend on size of your pizza and taste)
Directions
Stretch and flatten out pizza dough. Spread on sauce almost completely covering the dough then add a layer of cooked penne rigate. Next add a few dollops of ricotta, then sprinkle on the pecorino romano cheese. Tear off chunks of the fresh mozzarella and place on the pizza. Sprinkle on the bread crumbs, some parsley and place the chunks of crusty bread in between the pasta and cheese on the pizza.
Mike cooked the pizza in a professional oven at 750 degrees for 4 and half minutes. We recommend using a pizza stone at home. Place the stone on the lowest rack in your oven. Preheat the oven with the stone inside to 500 degrees. (pizza stones vary so check to see what the max temp for it is)
Cook the pizza for 10-15 minutes until browned and crisp on the bottom.
To enjoy in true Atlantic City style, fold the pizza to eat. It's OK to use a fork and knife, too.