My Family Recipe Rocks Episodes
Real Men Cook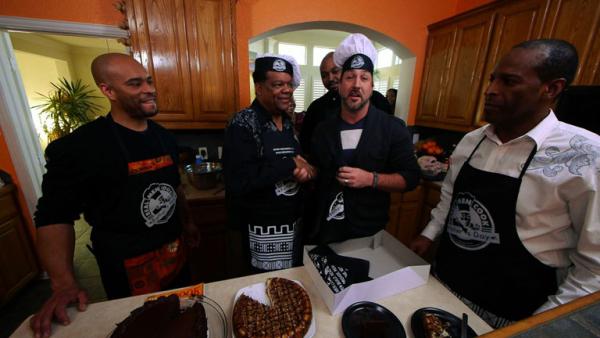 Joey Fatone visits Real Men Cook in Dallas, Texas, for some classic American comfort food that packs a punch. The non-profit organization empowers men to cook for their community.
Joey joins Terry Allen at his home with three other Dallas members of Real Men Cook for some delicious southern food.
"Real Men Cook is a celebration on Father's Day. We take recipes from our families that were handed down and we bring the best of the best to the table," said Terry Allen.
The Real Men Cook have almost 1,500 cooks across the country. In Dallas, there are 150 cooks who give up their Father's Day to prepare a feast for the community that showcases their family recipes and they volunteer their time with mentoring and culinary camps. The money they raise goes to charities across the U.S.
Dyrell Hatcher of Real Men Cook shares his grandmother's homemade potato salad recipe. He owns a restaurant -- Southern Kitchen, which will be renamed Hatcher's Grill soon -- in Celina, Texas. The menu focuses on southern cuisine.
Real Men Cook's Steve Wesley shows Joey how to make his sweet and heat wings. After testing many recipes this is the one that stuck. It is simple to make but delicious! He tops the fried wings with his homemade blend of spices and hot sauce.
Dyrell Hatcher's deep fried turkey is crispy on the outside but juicy and tender on the inside. He starts with a room temperature turkey and then injects it with a Cajun butter sauce.
For dessert, Kendrick Nealy whips up a chocolate turtle cheesecake, which is topped with two types of chocolate and caramel and has a honey cinnamon graham cracker crust. The whole pie is only 800 calories!
Kendrick owns a pie company, Kens Sensual Cheesecakes, where you can customize your very own cheesecake to your liking and you will find his signature cheesecake line.
For more information on the Real Men Cook visit www.realmencook.com.