My Family Recipe Rocks Episodes
Joey and Carnie Reminece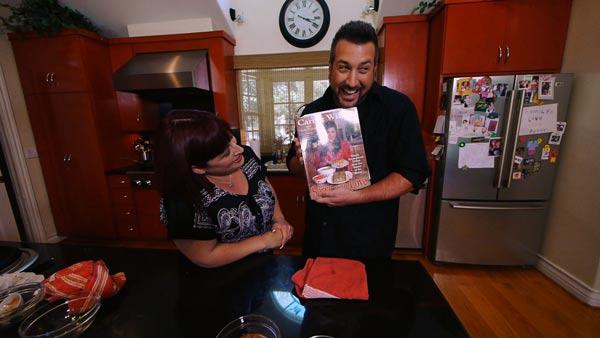 Carnie Wilson welcomes long-time friend Joey Fatone into her Los Angeles home for an afternoon of cooking and reminiscing.
This is not the first time Joey has eaten in his Carnie's kitchen. They are long-time friends who have worked together on several shows in the past. Joey knows that Carnie is great cook and that she loves to entertain -- so he is looking forward to seeing what's on her menu for his visit.
Carnie is very open about her weight loss struggles and gastric bypass surgery. She tries not to overindulge but she still enjoys cooking tasty treats and savory smothered dishes for her friends and family.
Carnie recently came out with a cookbook called 'To Serve With Love' -- which contains recipes so good that she says they "made me fat." But Wilson writes about enjoying food -- "just have the real thing and eat less," she says of her "Fall to Your Knees Mac and Cheese."
Carnie shows Joey how to make two of her favorite recipes from her cookbook-- Hungarian Pork Chops and her Ooey, Gooey, Pumpkin, Carmel, Praline Bread Pudding.
For more information on Wilson Phillips visit wilsonphillipsmusic.com.