My Family Recipe Rocks Episodes
Joey Fatone Visits Philly Firehouse for Tasty Eats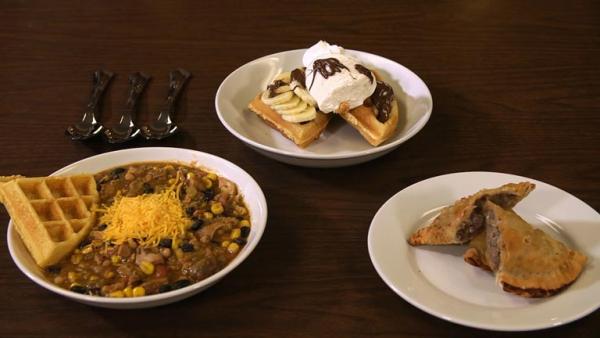 Philadelphia firefighter Brandon Wilson shows Joey Fatone how to prepare a few delicious dishes that are quick and easy to prepare. From a smoky chili to a unique twist on the Philly cheesesteak, you'll learn how to prepare a few recipes that are perfect for your Super Bowl party.
Philadelphia is known as the city of brotherly love and is also the birthplace of America. Acting as the hub for our founding fathers during the American Revolution, the Declaration of Independence and the United States Constitution was signed at Independence Hall in downtown Philadelphia.
It's also home to one of the oldest fire departments in the country. It was established in 1736 and headed up by Benjamin Franklin. The job of a firefighter may look glamorous on the outside but these men and women put their lives on the line for us every day.
Joey was fortunate enough to have the Philadelphia firefighters open up their house so he can get a glimpse into their life.
At Philadelphia's Fire Academy, cadets go through an intense program to learn how to fight fires.
"We eat together, we work together, we fight together," said Michael F. Roeshman, Battalion Chief. "There is always cooking, especially in the firehouse. We have some great cooks."
Firefighter Brandon Wilson is known for his skills in the kitchen.
"As a young kid, everyone wants to be a firefighter. I actually went a different path when I was in high school to do cooking and the firehouse test came up and I thought this is something I could do both with so I figured why not. You always need a cook in a firehouse," said Brandon.
When you are cooking in a firehouse, everything has to be ready quickly. You never know when you are going to get that emergency call.
The Philly cheesesteak is a culinary classic and arguably the most popular dish to come out of the city. Brandon's cheesesteak empanada recipe is a twist on the Philly favorite. He likes to switch the bread for an empanada wrapper.
This dish can be made prepared in advance and then fried for a quick snack or lunch -- which is perfect for the demands of the firehouse.
Brandon's signature dish is his Firehouse Chili. He makes his own spice rub for the chicken -- which makes the flavor base for the chili. His secret ingredient is chipotle chili peppers and bacon.
"I got the job when I was 23-years old. When you are with a tight group of guys like that, they don't become just your co-workers, they become your family," said Brandon.
While the chili simmered, Joey got a taste of what it was like to fight a real fire. He suited up in the gear and headed to the Firehouse Academy simulator to experience a code 3 fire.
"It was really hot in there. You couldn't see anything. I was lying on the floor at one point and I could see something so I could see the floor. But the minute you went up maybe a foot off the ground, nothing. You just see ash flying everywhere. You have no sense of where you are. You have to rely on everyone's voices," said Joey.
After all that hard work, Brandon and Joey headed back to the kitchen to make cornbread waffles to go with the chili. This unique way to make cornbread is quick and easy.
"For my cornbread, I like to do something a little different. I do a cornbread waffle. The reason we do that is one for texture -- for that crispy cornbread taste -- and also for the speed. In a firehouse we don't have a lot of time," said Brandon.
Like most families, dessert is a key to a successful meal and the Philadelphia Fire Department is no different. Brandon has a recipe that uses the speediness of a waffle iron to crank out a crunchy pound cake waffle for dessert.
"By using a waffle making it gives us that super crispy feel so it is almost like everyone gets an end. It helps with the texture and it helps it stand up to the ice-cream and the Nutella and the whipped cream that you are going to be putting on it," said Brandon.