My Family Recipe Rocks Episodes
Joey Fatone Learns St. Louis BBQ Grilling Secrets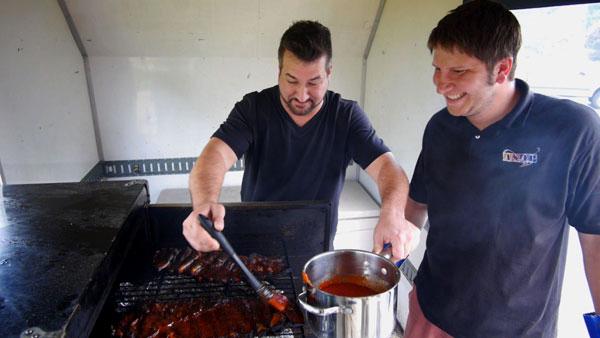 Joey Fatone is in one of America's top spots for barbeque -- St. Louis, Missouri! This city consumes more barbeque sauce per capital than anywhere else in the world. It is no surprise since some of the world's best barbeque competition masters call this city home. From killer ribs to very sweet treats, Joey learns the smoky secrets from two grilling gurus.
Joey meets up with Elliot Mellow and Bob Dampier (AKA: Uncle Bob) just outside of St. Louis. They are legends in the world of barbequing so having them cook for us is not only a real treat, it's a rare chance to see how these rib cooking experts git-r-done on the grill.
Elliot and Bob are part of the St. Louis BBQ Society, which is a group of backyard cooks, professional cooks, competition guys and gals, judges and basically anyone involved in BBQ who likes to get together to celebrate BBQ, raise money for charity, and, of course, to compete!
"I have been involved in BBQ in St. Louis for probably 15 to 20 years. For the last eight years I have been with St. Louis BBQ Society," said Bob.
When the St. Louis BBQ Society is not competing, the cooks get together and do five to six charitable events every year to give back to their community.
In the kitchen, Uncle Bob starts by making his pineapple bread pudding, which is cooked on the grill. His secret ingredient is day old glazed doughnuts!
"Bread pudding on the grill... it is almost impossible for it to come out bad," said Bob.
Then, Uncle Bob shows Joey how to make his caprese salad with a twist. He prides himself on his signature avocado dressing, which is a fantastic addition to the salad.
While Bob's bread pudding cooks on the grill, Elliot starts to make his award-winning St. Louis style ribs. There are two ribs on a pig -- the baby back rib is on the back and the spare rib is right above the belly. Elliot likes the spare ribs but he has to butcher them to make them into St. Louis style ribs. Trimming the membrane off the ribs, helps the seasoning stick to the meat, and makes your ribs less greasy.
Once the ribs are trimmed and seasoned, Elliot smokes the ribs for three hours. Then, he wraps them in foil with his basting sauce and some dry rub and puts them back in the smoker for about an hour and a half. He tops them his homemade BBQ sauce and smokes them for another 15 minutes.
Taking a pork butt, Uncle Bob slices them up into steaks and generously coats them with dry soy sauce. He cooks them on a charcoal grill at 300 degrees for about three hours.
Next, Elliot shows Joey how to make a cool and refreshing cocktail that he enjoys when the BBQ competitions heats up. He combines smoked lemonade with bourbon for a unique and interesting beverage for a summer backyard BBQ.
For more information on Elliot's catering company visit stlouisbbqcatering.com.