My Family Recipe Rocks Episodes
Italian Feast Paired with Beer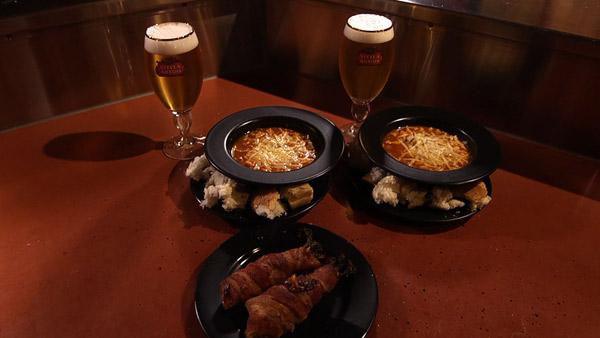 Joey Fatone heads to St. Louis, Missouri to meet his long-time friend, Scott Seggi. They cook up a classic Italian meal and pair the dishes with beer.
Scott works for Anheuser-Busch in St. Louis, Missouri. He travels the globe and teaches people how to pair beers with different types of food. Joey and Scott have been friends since high school.
"I have known Joey for over 20 years. We have worked together at Universal Studios in Orlando. We went to the same high school. I know his brother, his sister and the family. It has been great to stay in touch with him with everything that he has done. But it is great that he is here in St. Louis to see my loft and have a few good days and beers," said Scott.
Joey has had the opportunity to cook for Scott many times in the past but Scott has never had the chance to return the favor. So, Joey is very excited to see if he can really bring it in the kitchen.
Scott starts off by making his family's recipe for pasta fagioli, which is a traditional Italian dish. The recipe was handed down to him by his grandmother. He makes a homemade marinara sauce and ham stock for the base of the soup.
Scott's secret to cooking the pasta for this dish is to boil it in beer. When you boil your pasta in beer it gives it more flavors. Scott uses Budweiser for this dish, which he says gives the pasta more of a sweeter flavor.
He uses a 'Bottoms Up' machine to fill his beer glass before pouring it into the pot. The machine fills your glass from the bottom up and releases the carbon dioxide in beer. Carbon dioxide is filling so if you drink a lot of beer with this gas, you get bloated. So eliminating that from the beer allows you to feel better. And, when you release the carbon dioxide from the beer it releases the flavors, which makes the beer smell and taste different.
"When you are drinking your beer out of a bottle, you are missing out on some stuff. Where is my nose when I am drinking out of a bottle? It is in the air. If I am drinking out of a glass, now I smell what I taste at the same time and it is a full sensory experience," said Scott.
Then, Scott whips up a batch of bacon and prosciutto wrapped asparagus stuffed with pepper jack cheese. It is an easy recipe that packs a lot of flavor into each bite.
Scott recommends pairing these dishes with a Stella Artois.