My Family Recipe Rocks Episodes
Carrot Top in the Kitchen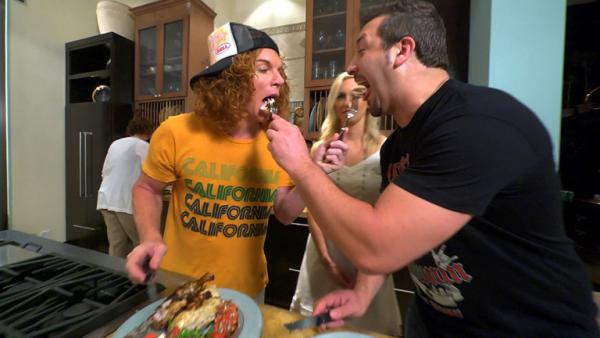 Scott 'Carrot Top' Thompson and his longtime girlfriend, Amanda Hogan, prepare a dinner party for Joey Fatone and Las Vegas headliner Frankie Moreno at their home in Las Vegas.
Amanda Hogan loves to cook and entertain in their home. She has perfected many wonderful dishes that she prepares for her growing catering business. For the dinner party with Joey, she made two mouth-watering
bruschettas
, a
brick grilled Tuscan chicken
,
watermelon and arugula salad with feta cheese
.
Carrot Top isn't much help in the kitchen but he entertained the crowd while they cooked the meal. One of his favorite pastimes is gardening, which he also worked on while Joey was in the kitchen with Amanda.
Frankie Moreno who performs at Stratosphere Hotel surprised Joey when he showed up for dinner. He is a buddy of Joey and Carrot Top's from their hometown of Orlando, Florida.
While they were setting up the table for dinner, Frankie shared his specialty of aged fine whiskey, pouring shots for the guests and crew.
The dinner ended with Amanda's incredible dessert of grilled peaches drizzled with honey and lavender infused balsamic glaze, which was served with ice cream. Joey was in peachy heaven!
For more information:
carrottop.com
frankiemoreno.com
anythymecateringlv.com