Motion Episodes
Valley of Fire State Park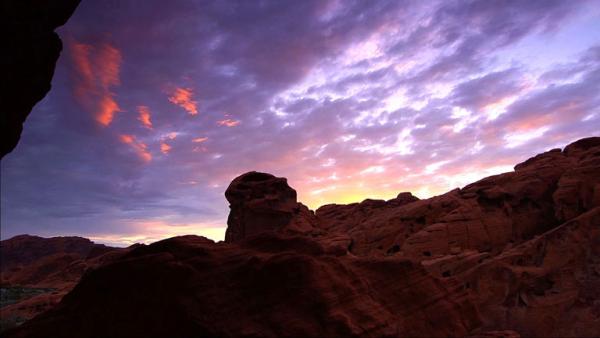 Valley of Fire State Park's stunning red rocks and bright blue skies set the stage for an outdoor destination that is tough to beat. But these hidden canyons and sandstone caves are relatively unknown because they are overshadowed by the bright lights of nearby Las Vegas, Nevada.
Las Vegas is a one-of-kind city with non-stop vibe that is all about entertainment. On average, 35 million people visit Las Vegas and most of the people never leave the action of the strip. Southern Nevada is also a hub to some of the hottest destinations, like the Grand Canyon, Zion National Park and Lake Powell. But, often overlooked is Valley of Fire State Park, which is just to the north of Las Vegas. It can scenically hold its own with any of the big national parks in the area.
Greg Aiello brought along regular Las Vegas visitor, Dave Denny, who never knew there so many unique places to explore in the area.
Valley of Fire is the oldest state park in Nevada. It was founded in 1935 and covers 42,000 acres near Lake Mead. Its unique sandstone formations merge with the otherwise muted colors of the desert, giving these rocks the look of being on fire. For those visiting Las Vegas, Valley of Fire is only a 50 minute drive from the downtown area. Since the park is small you can hit a lot of the good hikes in one day.
The Rainbow Vista looks across 150 million years of time. The great maze of canyons, domes, towers, ridges and valleys that you can see from the lookout were carved from sand deposited during the time when dinosaurs walked the earth. It is wild and virtually untouched wilderness.
The time of year and weather are key factors when you are planning a trip to Nevada. During the summer months temperatures can reach 110 degrees, which makes an easy hike a little uncomfortable.
The distinctive red rock features of Valley of Fire were formed 150 million years ago. As giant sand dunes thousands of feet tall stretched across the land. Over time, an ancient sea and millions of years of change covered these dunes pressing the sand into the petrified sandstone we see today.
After exploring the Valley of Fire, Greg and Dave headed to the northern end of Lake Mead. There is over 500 miles of shore line to explore. Then, they hiked the Elephant Rock Trailhead.
For those not sure if the desert is worth exploring, Valley of Fire might change your mind. It is close to the comforts of Las Vegas and a day trip here will expose you to the unique beauty found in the southwest.
While the huge panoramic views are always impressive in the desert, focusing your attention on the smaller things always pays off -- noticing the way a small shrub balances with the sandstone or spotting a Chuckwallas, which is a large lizard.
If you don't want to head back to Las Vegas you can always set up camp. There are two campgrounds in the Valley of Fire. They are first come, first serve.
For more information:
GPS Coordinates:
Rainbow Vista: 36º 27'02.83" N - 114º 30'55.39" W
Lake Mead Walk: 36º 22'04.34 N - 114º 23'45.89" W
Elephant Rock Trailhead: 36º 25'43.99" N - 114º 27'28.75" W
Motion Campsite: 36º 25'03.24" N - 114º 33'30.91" W
Segment 1

Host Greg Aiello and guest hiker Dave Denny escape the bright lights of Las Vegas and head to Valley of Fire State Park. Dave visits 'Sin City' often but he rarely ventures off 'the strip.'
Segment 2

After host Greg Aiello showed guest hiker Dave Denny another outdoor wonder near Las Vegas -- Lake Mead -- they hit up the Elephant Rock Trailhead to explore some of the sandstone formations.
Segment 3

After exploring southern Nevada's Valley of Fire National Park, host Greg Aiello and the rest of the Motion crew set up a camp site for the night.