Motion Episodes
Kayaking Costa Rica's Rio Suerte River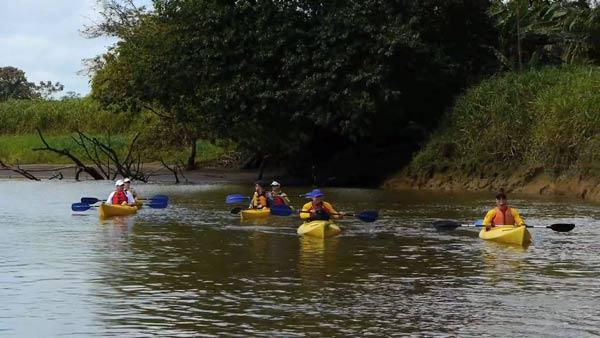 To get to Costa Rica's Tortuguero National Park, Greg and a few Motion guest hikers paddle by kayak down the Rio Suerte River. Along the way, they get an up-close and personal look at the jungle's wildlife.
With over 25-percent of Costa Rica's total landmass protected by national parks and preserves, it is easy to see why their ecotourism continues to grow each year.
Tortuguero National Park is one of Costa Rica's most remote parks but it is still the third most visited. It is accessible by boat and plane only. Known for its large biological diversity, Tortuguero encompasses 11 different habitats, including swamp, rain forest, mangroves and beaches.
For this trip, Greg turned to one of the world's leading adventure travel outfitters -- Southern Yosemite Mountain Guides -- to build a custom Costa Rican odyssey. Owner Ian Elman has been guiding trips to the region for many years by partnering with Rios Tropicals -- a group of local outdoor guides that are experts on the water.
Melissa and Matt joined Greg on this adventure in Costa Rica. The couple lives on a farm in southern New Jersey.
To get to the park, they had to endure a three-hour and somewhat thrilling drive from downtown San Jose to Rio Suerte River, which serves as a hub for most travelers going to most of Tortuguero's lodges on the Caribbean coast.
"I was afraid of two things -- dying, thankfully with my husband next to me as horrible as it sounds, and losing my fingernails from gripping onto the seat because of the car that was in front of us," said Melissa.
There are large water taxis at Rio Suerte River that will take you on a two-hour journey down the river to Tortuguero. But, the outdoor guides had a different plan for Greg, Matt and Melissa. They took a peaceful four-hour paddle by kayak down the river where a power boat would pick them up for the rest of the run to their lodge. A chase boat took their luggage and served as a good camera platform for the crew to shoot from.
As the water taxi headed downstream for Tortuguero, excitement began to rise as they launched the kayaks for the long paddle into the unknown world of Costa Rican waterways.
It was clear that Melissa and Matt had both spent some time in kayaks before. They were both quickly comfortable in the water and paddled like pros downstream. As they settled into the flow, Costa Rica's amazing wildlife began to put on a show.
About an hour into their trip on the Rio Suerte River, they could tell they were getting closer to the boundary of Tortuguero National Park. The open farm lands on either bank slowly surrendered to the dense tropical jungle that closed in on the river as they continued to paddle east.
With the change in the scenery came their first encounter with a creature they had been looking for -- a Caiman. They are common in this part of Central America. They tolerate both fresh and salt water and they don't grow very big -- about four to six feet long -- and mostly eat fish, insects and snack. The Motion crew felt pretty comfortable getting close to the Caiman -- especially the small ones who stay motionless as a form of defense.
But, these waters are also home to a reptile that commands a lot more respect -- the American crocodile. The river current pulled Greg right into a spot where a 12-foot long crocodile was waiting for something tasty to pass by -- luckily for the Motion crew, bright yellow kayaks weren't on the menu. The crew's paddle down the Rio Suerte River was incredible. Most tourists that pass through do so in large motor boats that move to quickly to see anything like crocodiles, spider monkey, lizards, and Caimans. Their guided trip was designed by SYMG to put them close to the water so they could experience the true nature and beauty of the river.
As the calm waters of the river led them deeper into the jungles of Costa Rica, the sights and sounds of Tortuguero National Park continued to amaze Greg and the guest hikers.
Three hours into their adventure, the outdoor guides set up lunch on the banks of the river.
"I was just saying to Greg, one day you are in the office or at home and a day later you are kayaking in the middle of jungle. How did I get transported so fast," said Ian.
Their paddle ended when the Rio Suerte River met the larger Tortuguero River. There, they packed up their kayaks on another guide boat and headed for their beach-side villas in Tortuguero. Ian booked their rooms at one of the top spots -- the Wawamba Lodge.
After getting a good night's rest, Greg and the guest hikers planned to kayak down the Tortuguero River to a remote canal that is off limits to power boats.
"I was expecting to see more of the same stuff we encountered but it turn out to be very different from what we first encountered. It was more densely 'junglfied' and we saw the wildlife up close and personal. We weren't in a rush and it was nice to slow down and take everything in," said Matt.
On their own timeline, they became fully immersed in the essences of Tortuguero National Park. The quite, calm waters and blue skies made for a perfect setting.
They lucked out with weather since the area sees 250 inches of rain per year. But for their short visit they nailed clear skies and temperatures in the 80s.
The farther they paddled on the canal, the more wildlife they encountered and they used the kayaks to get incredibly close to Caiman that were now almost everywhere.
"You don't find the beauty of Costa Rica in the Northeast. It literally feels like we were blessed to step into a special zoo exhibit but it is wild," said Melissa.
"This experience lead me to believe that there are many places in the world I'd love to see. Costa Rica was definitely on my bucket list," said Matt.
About two hours into their paddle upstream, the canal began to get pretty tight. After seeing an abundant amount of wildlife and getting low on drinking water, they decided to head back.
After exploring Tortuguero National Park by kayak, the outdoor guides set up a rare hike into the jungle -- something that is not normally done since trails rarely exist in Costa Rica.
They hiked on a raised concrete pathway loop that led them about a half mile into dense jungle. Without this path, it would be next to impossible to walk into the jungle.
Costa Rica's ecotourism is a hot spot for a reason. With the large amount of land and the accessibility to wildlife in their natural setting, it makes a place Tortuguero National Park extremely popular.
"It is such a great trip. You have got one of us, typically me, I'll be with you whole time, from the minute you sign up, all the way through the end of the trip. You can see that I have been working with the same crew of guys for the last ten years. They are the best out here and there are tons of them. It is so fun. We love out here," said Ian.
Traveling internationally can be intimating for some but a week in Costa Rica set up by pros, like Ian, that handle every aspect of the adventure are opening a new world of discover to people eager to see the outdoor wonders of this world.
For more information:
Mawamba Lodge GPS coordinates: Lattitude 10.5536, longitude -83.5081