Motion Episodes
Hiking Jungles of Tortuguero National Park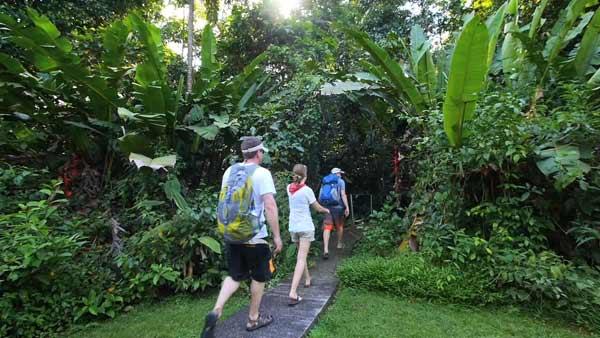 After exploring Tortuguero National Park by kayak, the outdoor guides set up a rare hike into the Costa Rican jungle.
With over 25-percent of Costa Rica's total landmass protected by national parks and preserves, it is easy to see why their ecotourism continues to grow each year.
Tortuguero National Park is one of Costa Rica's most remote parks but it is still the third most visited. It is accessible by boat and plane only. Known for its large biological diversity, Tortuguero encompasses 11 different habitats, including swamp, rain forest, mangroves and beaches.
For this trip, Greg turned to one of the world's leading adventure travel outfitters -- Southern Yosemite Mountain Guides -- to build a custom Costa Rican odyssey. Owner Ian Elman has been guiding trips to the region for many years by partnering with Rios Tropicals -- a group of local outdoor guides that are experts on the water.
Melissa and Matt joined Greg on this adventure in Costa Rica. The couple lives on a farm in southern New Jersey.
To get to their resort, Greg and the Motion guest hikers paddled by kayak down the Rio Suerte River. It was a four-hour journey but it was worth every minute. They enjoyed the wildlife and beautiful surroundings of the jungle.
After resting at their resort, they were ready for their next adventure -- kayaking on a remote canal off of the Tortuguero River.
"I was expecting to see more of the same stuff we encountered but it turn out to be very different from what we first encountered. It was more densely 'junglfied' and we saw the wildlife up close and personal. We weren't in a rush and it was nice to slow down and take everything in," said Matt.
On their own timeline, they became fully immersed in the essences of Tortuguero National Park. The quite, calm waters and blue skies made for a perfect setting.
They lucked out with weather since the area sees 250 inches of rain per year. But for their short visit they nailed clear skies and temperatures in the 80s.
The farther they paddled on the canal, the more wildlife they encountered and they used the kayaks to get incredibly close to Caiman that were now almost everywhere.
"You don't find the beauty of Costa Rica in the Northeast. It literally feels like we were blessed to step into a special zoo exhibit but it is wild," said Melissa.
"This experience lead me to believe that there are many places in the world I'd love to see. Costa Rica was definitely on my bucket list," said Matt.
About two hours into their paddle upstream, the canal began to get pretty tight. After seeing an abundant amount of wildlife and getting low on drinking water, they decided to head back.
After exploring Tortuguero National Park by kayak, the outdoor guides set up a rare hike into the jungle -- something that is not normally done since trails rarely exist in Costa Rica.
They hiked on a raised concrete pathway loop that led them about a half mile into dense jungle. Without this path, it would be next to impossible to walk into the jungle.
Costa Rica's ecotourism is a hot spot for a reason. With the large amount of land and the accessibility to wildlife in their natural setting, it makes a place Tortuguero National Park extremely popular.
"It is such a great trip. You have got one of us, typically me, I'll be with you whole time, from the minute you sign up, all the way through the end of the trip. You can see that I have been working with the same crew of guys for the last ten years. They are the best out here and there are tons of them. It is so fun. We love out here," said Ian.
Traveling internationally can be intimating for some but a week in Costa Rica set up by pros, like Ian, that handle every aspect of the adventure are opening a new world of discover to people eager to see the outdoor wonders of this world.
For more information:
Mawamba Lodge GPS coordinates: Lattitude 10.5536, longitude -83.5081