Motion Episodes
Exploring Monterey Bay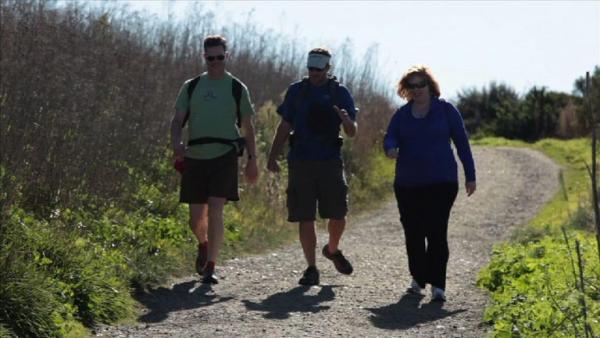 Monterey Bay is a place where California's rugged coast opens up to a sprawling bay. It is a destination for wildlife and one that will take our guest hikers -- Debi and Ron -- by surprise.
Debi and Ron are from Chicago and this was their first trip to California. They have left the cold weather to come and explore this coastal paradise with Greg for two days.
"I discovered the Motion show as most people do, just channel surfing one night and I really enjoy visiting the national parks. And, I saw at the end of one of the show how they take guests out on hikes and I thought what the heck, my girlfriend's birthday was coming up and I wanted to do something different, unique so I wrote into the show and two weeks later I couldn't believe it. Dave from the crew called me asking me to come to Monterey California," said Ron.
They started their journey at the Elkhorn Slough National Estuary. It is considered one of the top birding locations in the west. But since they visited the bird sanctuary in December, most of the birds had migrated.
Then, they headed to Sunset Beach to watch the sunset. After that, they set up their tents for the night at a campsite near the beach.
"It has been a while since I have done some camping," said Ron.
In the morning, they headed to the town of Moss Landing for a quick lunch and then they headed to Sand City to check out the sand dunes -- it's a great place to explore the wide open spaces of Monterey Bay.
Greg took them kayaking on the Pacific Ocean amongst the sea otters. Greg, Debi and Ron put their boats on their backs and headed up to Lover's Point where they could enjoy the wildlife as the current pushed them ashore. The Alpacka rafts continue to be one of Greg's favorite pieces of gear. It once again allowed him to plan a unique experience with a short hike and paddle back to their base -- something that is only possible with Alpacka's mobile design.
They also headed to Cannery Row -- a popular tourist destination and home to Monterey Bay Aquarium -- for a look around.
On their second night in Monterey, the Motion crew stayed at the Monterey Plaza Hotel. It is the perfect place to stay while exploring the beauty of Monterey.
For more information:
Sunset Beach
Sand City
Lover's Point
Cannery Row
Monterey Plaza Hotel
Monterey Bay Aquarium
Alpacka rafts