Motion Episodes
Climbing Mt. Conness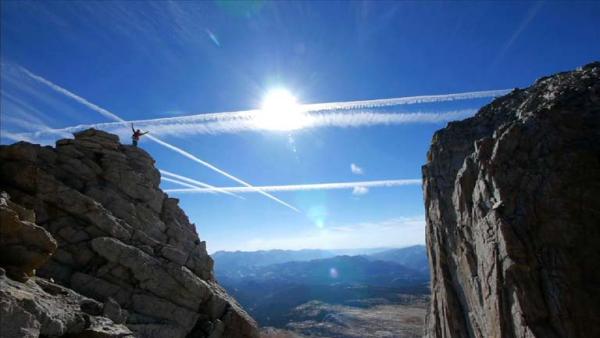 On the border of the Inyo National Forest and Yosemite National Park, lies one of the most prominent mountains found in the Sierra Nevada Mountains--Mt. Conness. It's a diverse and challenging mountain to climb as Greg and the guest-hikers are about to find out. With the help of Ian Elman of Southern Yosemite Mountain Guides, they hope to summit this iconic peak!
It's a picture-postcard setting away from the crowds in one of America's busiest national parks. It's also home to a majestic mountain that's breathtaking to look at but difficult to climb, something two Motion guest hikers will find out.
One of the top outdoor destinations in America is Yosemite National Park. Greg has explored much of Yosemite's scenic beauty in central California, but he's never attempted to climb one of its major peaks in an episode of Motion before, until now. North of Tuolumne Meadows, in Yosemite's back country is Young Lake, a serene setting of crystal waters, framed by white-sand beaches, granite cliffs and watched over by mighty Mt. Conness.
This stately mountain of white granite rises to 12,648 feet and can be seen from great distances throughout Yosemite. Once again, Greg teamed up with Ian Elman and Southern Yosemite Mountain Guides to lead him on another high-Sierra adventure, something Ian and SYMG are pros at. He met up with Motion guest hikers Blaire and Mimi, childhood friends from northern California who now live on opposite sides of the country - Blaire in New York City, Mimi in L.A.
Blaire is a big fan of Motion but her best friend Mimi had never seen or heard of the show, so she had no idea what she was about to get herself into.
"I honestly had no expectations," she said. "All I knew is that we were going to Yosemite with some people, I didn't even know who they were."
Greg and Ian got to the stables near Lembert Dome ahead of the crew to help get the mules loaded up. Southern Yosemite Moutain guides is known for a lot of good things, but enjoying a comfy-camp with great food is one of their hallmarks, so using stock to load in the gear is how we're rollin' for this one. The plan for Day 1 was to start the hike near the stables in Tuolumne Meadows and walk seven miles up to Young Lakes. Lower Young Lake would be our base camp for the attempt to climb Mount Conness the next day. After getting a head-start on the mules and warming up on the trail, it didn't take long for our cowgirl and stock to pass us up.
The first part of the hike was perfect for getting used to the trail with a gradual climb and surrounded by beauty. After a couple of miles into the hike, we got a great look at clues to Yosemite's geologic and glacial past.
Just past a field of glacial erratics, the trail starts to point uphill and from this point on, it's a pretty good hump. September is one of the best months to enjoy California's high Sierra with mild daytime temps, stable weather and much smaller crowds.
This is one of those hikes that goes by much quicker than you think. The climb is pretty mellow but taking it slow is a good idea. Altitude can begin to play a role in how you feel here. Camp at lower Young Lake is just below 10,000 feet so pacing and staying hydrated are the two best ways to keep altitude sickness at bay. After a fun hike that took us about four hours, they finally made it to their camp.
Blaire and Mimi said hello to the cowgirl and mules that had arrived a couple of hours before. With all the gear dropped off, they were headed back to the stables for the night but would return to pick everything up in two days. While the girls and the rest of the crew set up camp, Greg and Ian found a nice spot for a little lunch and whipped up some grub for the gang.
The late-summer sun began to set over the High Sierra casting a warm glow over Mount Conness. This is a popular peak to climb with mountaineers, most scaling one of the routes on its vertical western face. The 'walk-off route' that most people use to come down the mountain after such a climb is the how they were going to go up the next day. This route is much less technical and doesn't require any rope or special skills. The only things Blaire and Mimi are going to need are strong legs and some mental toughness as they pound toward the nearly 13,000-foot summit.
"When I asked Greg what would be a great trip to do with a couple of fans, he instantly came up with Mt. Conness," Ian said. "The thing about traveling with Greg is , a lot of people don't really realize this, but he's an exceptional mountaineer and he knows this area and the entire Sierra like nobody else, so when he said, 'Let's do Mt. Conness,' I said, 'This is going to be great.'"
The cool, fall air and rising sun signaled the start of a day that would put them all to the test. Mt. Conness stood tall and stoic over the still waters of lower young lake as camp came to life. Greg and Ian whipped up breakfast as nervous excitement crept over the team, mentally preparing for the challenge ahead.
In addition to being tall, Mt. Conness is just one of the coolest looking mountains (asthetically) you'll find anywhere in the Sierra. The route took them up past Middle and Upper Young Lakes, then approach Mt. Conness from the south.
After climbing to a small pond, the real work began with a grueling slog up a steep slope of sand and gravel. After topping out here, at around 12,000 feet, the aim was for the summit ridge before made the last push for the top. The final 300 feet of the climb requires some careful scrambling and can be dangerous so everyone will need to stay sharp.
With packs loaded, they hit a spring near camp to top off water bottles for the first part of the climb. Even though temps are in the 70s today, staying hydrated at these altitudes is critical. Getting Blaire and Mimi used to the varied terrain they would be on was also important. A mix of on and off-trail hiking along with negotiating large talus is par for the course in most High Sierra climbing. As late-morning temperatures heated up, Blair and Mimi thought a quick dip in Upper Young Lake would be the perfect way to cool off, but once their toes got in the water it definitely changed their tune.
Greg decided that 'leading by example' might be the best way to coax the girls into the water so he stripped down and made the plunge first.
After the pitstop at Upper Young Lake, they got back on the trail and started up the first, steep sections of the climb. This is where the altitude really came into play. With slow, steady steps they pushed to the small, pond and meadow along the southern spine of Mt. Conness.
With the toughest part of the climb underway, they were hittin' the water hard. This is good for needed hydration, but up here, water sources can be non-existent and once you're out of water, the end of your climb isn't far behind. Being familiar with this route, Greg knew a runoff stream would be flowing near the trail, but this would be the last place to get water below the summit. Filtering your water is always a good idea, especially at lower elevations where people and animals are more concentrated, but up there, this water is about as pure as it gets, so we chugged a ton, filled up our bottles and pushed on.
After topping out above the tough, scree-slog-from-hell, they stopped on a large, open area to fuel up on lunch and take one last rest before making the final attempt at the summit, something we could finally see for the first time on the climb. "When we first got a look at the summit and it was in eye-view and it looked like a realistic goal, it was a whole different ball game," Blaire said. "All of a sudden it seemed possible and we got this whole new kick of energy. It didn't seem as treacherous; it didn't seem as crazy of an idea to try to make it to the top of this mountain."
Running a trip with Ian from Southern Yosemite Mountain guides is always a treat. SYMG specializes in trips just like this along with a variety of adventures throughout the Sierra. Taking newcomers to the backcountry and opening eyes to the spectacular beauty found here.
With the long, grinding part of the five-hour climb behind us and the excitement of summit-fever setting in, we made our way carefully up the last 100 feet of Mt. Conness. Here, with heart-stopping views dropping away from us on every side, the climbing becomes more technical. One slip here could turn a fun day hike into a ride home in a helicopter or worse.
"Literally one wrong step could really be life-threatening, Blaire said. "I've never been in a situation where I had to be so focused on every single detail, every single step."
Again, Blaire and Mimi hung tough, making their final push to the top of Mt. Conness with strong, purposeful steps and big smiles on their faces.
There is no other feeling like climbing a mountain. It doesn't even have to be a major peak like Mt. Conness. Greg has climbed mountains all over the world and some of his best memories come from the summits no one has ever heard of. There's no hidden agenda to climbing like this. The mountain lays out its challenge plain and simple and you either make it or you don't. Sharing the joy of summiting Mt. Conness with Blaire, Mimi and Ian is a special memory Greg will hold onto forever.
Exploring the beauty of Yosemite National Park away from its crowded valley is special. Taking two guest hikers into this hidden world was incredible but adding to that experience by climbing one of the tallest peaks in the park was literally 'over the top'.
We always love teaming up with Ian Elman and Southern Yosemite Mountain Guides for trips like this. Ian's professionalism, experience and dedication to safety are big reasons SYMG is one of the top guide companies in the world. To book a trip Ian and his team, visit symg.com.
Links:
Southern Yosemite Mountain Guides: http://www.symg.com/index.php
Yosemite general information: http://www.nps.gov/yose/index.htm
Yosemite backcountry permits: http://www.nps.gov/yose/planyourvisit/wildpermits.htm
Wilderness safety: http://www.nps.gov/yose/planyourvisit/wilderness_safety.htm
About Mt. Conness: http://en.wikipedia.org/wiki/Mount_Conness