Motion Episodes
Arkansas' Hot Springs National Park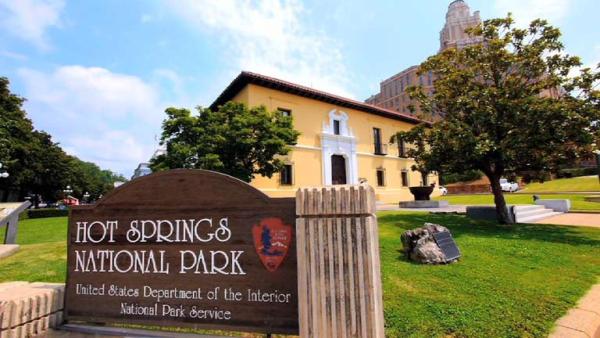 Greg Aiello explores one of America's most unusual national parks in Hot Springs, Arkansas. Hot Springs National Park is a place where natural thermal waters have been gushing from the ground for thousands of years.
Hot Spring, Arkansas, is a small town near the middle of the Razorback State. It is home to one of America's 59 full-fledged national parks. The reason it became a national park in 1921 is because of its hot water. Carbon dating suggests that this scalding H20 fell to earth as rain 4,000 years ago. Now it is being forced to the surface by pressure and super-heated by friction along the way.
The U.S. government thought these waters were special enough to make Hot Springs the first federally protected land in America in 1880 and not long after that Bathhouse Row was built -- capturing the waters in a series of establishments where people would come to sit, soak and rejuvenate. Today, Hot Springs is different.
Hot Spring is literally a town divided. On one side of Central Avenue the national park displays the historic building of Bathhouse Row, along with hiking trials, wooded hills and an observation tower. On the other side of the street, the city of Hot Springs thrives in a series of gift shops, tourist traps, bars and restaurants.
Greg Aiello had breakfast with the mayor of Hot Springs to find out how the city and national park co-exist. Then, he met with the head of the park, Ranger Josie, to learn more about the unique park.
"On average the collection of all of the springs brings the water to 143 degrees F. When you offer it to the public for bathing you wouldn't be able to... that is hot. The industry standard for bathing and in spas is 104 degrees. So we have a very elaborate system to get the thermal water and bring it down to a cooler temperature so at the bathhouses the customers can enjoy the water," said Josie.
Throughout the downtown area there are a series of public water fountains. They provide hot mineral-packed water for the residents and tourists to take home.
"Everything that is good for you in there -- potassium, fluoride, calcium, magnesium. So all of the things that you would likely find in a one-a-day vitamin," said Josie.
One of the most distinctive features in Hot Springs is the line of elaborately designed and constructed buildings known as Bathhouse Row. The first were built here in 1830 to capture the water in pools for bathing. But they were later replaced by a collection of turn of the century establishments. Hot Springs was a hot spot for therapeutic bathing back then. It was thought to cure almost anything. But that changed with the advances of modern medicine.
"After World War II going to take the baths fell into disrepair if you will. And it was primarily because of all the advances in medicine -- x-rays were invented, penicillin, etc.," said Josie.
A visit to Hot Springs National Park in Arkansas isn't your typical national park experience. Its downtown location and thermal waters of Bathhouse Row don't scream the great outdoors but there is a rich history in the city.
But there is more to the park than a row of old bathhouses. There is forest that surrounds the city with an extensive network of hiking trails with an observation tower on the top of Hot Springs Mountain.
Most park visitors come in the summertime, which in central Arkansas is usually very hot and humid – it's not a very good combination when you are hiking up a mountain.
The first tower to sit on top of Hot Springs Mountain was built in late 1800s and was made of wood. It only stood 75 feet tall. Today's tower stretches 216 feet into the Arkansas sky and can be seen from almost every inch of Hot Springs. There is a small fee to get in and an elevator to get to the top. But, Greg likes to climb so he decided to take the stairs.
On the top of the tower you will enjoy a 360 degree view of the rolling forest hills below.
Central Arkansas is an outdoor lover's dream with rolling hills, dense forests and hot spots -- like Lake Ouachita which is just 30 minutes from Hot Springs.
When coming to Hot Springs one thing is for sure, there is no lack of things to do. There are not too many places you can spend time in nature and simply cross the street into an entirely different urban setting.
For more information: