Mirror/Mirror Episodes
Woman Gets New Hairstyle for Short Hair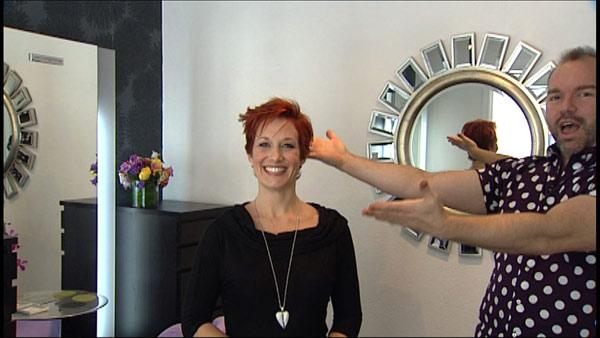 If you have short hair and are ready for a change, you don't have to wait until your hair grows out! Get inspired by this fun short-hair makeover.
They say a picture is worth a thousand words, but when salon owner Trey Gillen saw pictures of Drew Mitchell's hair, he was speechless!
"When I first saw Drew's hair I thought, 'I don't know who did this, but I have to fix it.' It looked like she went into the mall and told them to do whatever they wanted," Trey said.
That wasn't quite the case.
"A friend did it at home," Drew laughs, "That was the salon -- my living room."
But it was Drew's co-worker, Adrienne, who actually got her into the salon chair.
"So, one day at work she was kind of complaining about her hair. She wanted to do something different. I thought she definitely could use an update and I knew exactly who to send her to, so we called Trey and that's how she ended up here," Adrienne says.
So, first Trey changed Drew's hair color from two-toned blonde/brown to a Bordeaux red. Then, he gave her short hair more shape with a longer pixie cut.
He added, "When you change your hair color, you may need to tweak your makeup a little bit."
For makeup, Jessica added purples and browns to Drew's green eyes, a highlighter under her brow, and a brighter peach lip color.
More information:
Trey Gillen
Owner -- Tre Spa Salon
trespasalon.com
*Make-up by: Jessica Alston for Tre Spa Salon