Mirror/Mirror Episodes
Winter Hand and Nail Tips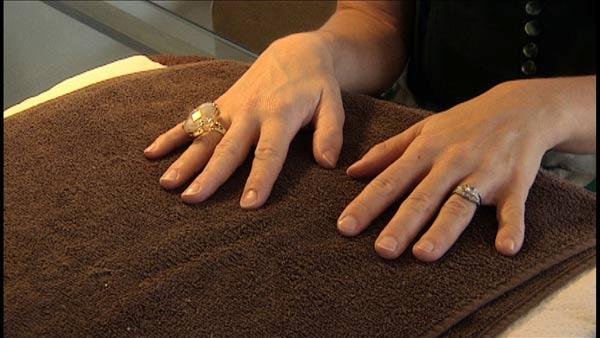 Cold weather wreaks havoc on our hands. Here are some tips from salon owner Rachel Gower to keep your top ten perfect all season long.
1. Exfoliate your hands at least twice a week. This can be as simple as combining your favorite oil (jojoba, grape seed, castor, olive) with white or brown sugar. For added benefits, include some vitamin E or lavender oil.
2. Oil Up! Use cuticle oil regularly. Follow this by putting moisturizer on your entire hand (including over the cuticle oil!). If you're having particular trouble with your nails, try Essie's Dry Stops Here nail mask (about $10).
3. Make time for moisturizer. Some of Rachel's favorites include:
Kiehl's Ultimate Strength Hand Salve -- about $20
Essie Smooth Trick -- about $8
Essie Feed Me Intense Hydration Treatment
Aveeno Intense Relief -- about $9
Sally Hansen Healthy Cuticles Now -- about $7
4. Some like it hot. You should not. Wash your hands in lukewarm water and make sure to shower in water that's not excessively hot. This will prevent you stripping the moisture away from the skin
5. Skip the soap! When washing your hands, opt for a non-soap cleanser such as Cetaphil instead. This will prevent your skin from being stripped of its own essential oils every time you wash your hands
6. Another way to skip the soap is to not wash your hands as much! Use a hand sanitizer moisturizer like Gold Bond Ultimate Hand Sanitizer Moisturizer. Gel, alcohol-based hand sanitizers can dry hands out.
7. Protect your precious hands! Just because it's winter doesn't mean the sun shines less. Your hands can age you by up to a decade, so be sure to use an SPF 30 on the backs of your hands every day.
8. Paraffin, please! Next time you're getting a manicure, treat yourself by adding on paraffin wax. This will help renew ravaged cuticles, as well as making hands silky smooth
9. Nip those hangnails. When you have a hangnail, DO NOT PULL! Using a nail or cuticle clipper, clip the hangnail at the root. Apply an astringent (such as witch hazel) to the entire nail area to prevent bacteria from invading your nails.
10. Buff. Though we've used emery boards for years, it turns out that they're just not as good as they used to be! Though they can file down your nails, they also leave the ends jagged and prone to ripping. Crystal nail files are a much better option, because they glide over the nail, rather than tearing them!
11. Check your (nail) tech! Nail salons have stringent safety requirements that they must uphold in order to stay in business. Ask your nail technician if you may see their sterilization pouch before proceeding with your next manicure.
For more information:
The Upper Hand Salon
www.theupperhand.com
713-520-0772