Mirror/Mirror Episodes
Warm Weather Colors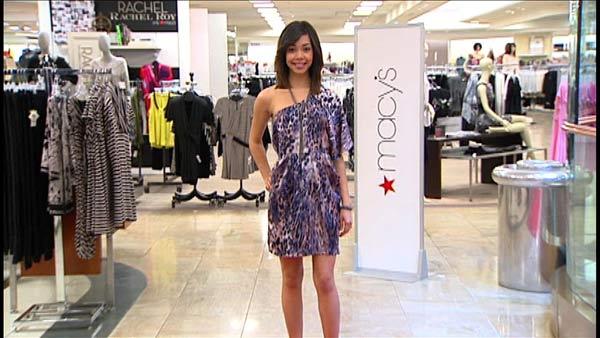 Say bye-bye to the drab colors of winter. Here are the ten official hip-and-happy hues you'll want to wear this season!
Color stylist Lauren Battistini knows color and with a little help from Pantone, the world's color authority, she's styled the top ten warm weather colors of the season.
"Younger women in their twenties, this is the time to experiment with color. You can wear a solid block of color head to toe, no problem," she says. "
"Once you get in your thirties and beyond, you want to still use color, have fun with it, experiment with it, mix and match it, but be a little bit more subdued in terms of maybe accessorizing."
Battistini says, "Women over forty tend to shy away from color. As we age, we lose coloration, pigmentation in our skin and eyes and hair. And so, it's important to take what would be an otherwise bright color palette and take it down just slightly. Also, use color more sparingly."
Here are Lauren's Top 10s:
Honeysuckle
Honeysuckle is not quite as strong as a red. It's still bright, but soft enough to where most skin tones can wear it very well. For the more mature woman, taking a bright color like honeysuckle and using it head to toe is not a good idea. It's better to use it sparingly by way of jewelry or as part of a print.
Regatta
Regatta is a medium marine blue and it's a perfectly versatile blue for the season. For women in their thirties, Lauren suggests wearing it mixed in a pattern. Regatta is so incredibly versatile that it could even be paired with this season's silvery muted grays and taupes.
Coral Rose
Coral Rose is a warm orange-red. It's a great warm color for golden skin tones. With a very warm orange-red, it only calls for gold accessories, which are of course very warm.(If you ever wonder if colors are cool or warm, cool colors are always going to look better with silver jewelry and warm colors look better with gold. Just put some gold and silver jewelry next to the color in question.)
Silver Peony
Silver Peony includes many variations. Technically, we're talking the fleshy beiges and blush colors, but we're also seeing it interpreted in some of the softer, baby pink shades. Soft pink is perfect for the woman over forty. It imparts a glow to her skin and shows that she understands color, but is using it in a very refined manner.
Beeswax
Beeswax is a yellow that's much warmer and a little less bright than the citrine and the cool yellows we saw from last season. Yellow is a tricky color for women to wear, especially women who are in their thirties and beyond. If you wear it head to toe, it looks a bit theatrical. So, what we want to do is show some style-savvy by incorporating the color in patterns and accessories.
Peapod
Peapod is a color that we're seeing used more secondarily this season. It's not a main color, but it's so beautiful because it has a soft quality to it and it pairs excellently with more muted tones of taupe and cream.
Russet
Russet is this season's dark neutral. It's a chocolate brown and pairs well with almost every one of the other colors for this season. A word of caution: if you're not careful it can look too dark and wintery. So, you want to brighten it up with colors like turquoise and green.
Blue Curacao
Another color for this season is blue Curacao which is essentially turquoise. It is a continuation of last year's "color of the year." It's still very popular and we're seeing both green-hued and blue-hued versions. This is an excellent color choice for women of all ages, but this is one color where the over forty woman can wear it from head to toe and look just bright enough without being overdone.
Lavender
Lavender is, of course, a very soft, pastel shade often an alternative to pink. This is a great color for women over forty because it's nice and soft against their skin tone. It provides them a little burst of color, but not too much. Because of the coolness of lavender, it looks best with silver accessories.
Silver Cloud
For the over-forty woman, forget about the little black dress. As women age, black can actually overpower them and really age them in some ways; draw interest to any fine lines and imperfections. A better option is this very silvery gray.
Just remember:
The number one rule about mixing and matching colors this season is to keep the intensity of your color palette the same. So, if you you're using pale colors you want to keep them all together.
On the contrary, if you're going with a bright color palette, you can pair the honeysuckle with the beeswax and the regatta all of those bright vivid colors can work together.
For more information:
Lauren Battistini
Color My Closet
www.colormycloset.com
Pantone -- www.pantone.com
Special thanks to Macy's -- www.macys.com