Mirror/Mirror Episodes
Walk This Way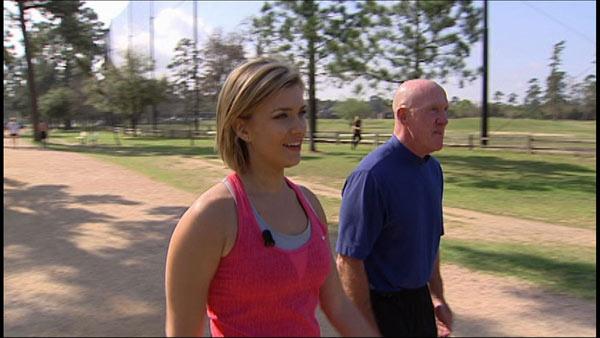 Walking is a great way to stay in shape and a simple step to overall health.
"There is overwhelming evidence that people who walk frequently will have lower chances of heart disease, diabetes, high cholesterol and even some cancers," says Strength and Conditioning Consultant Dan Riley.
The best part? You don't need much to get started -- sunscreen, maybe a hat and music, a really good pair of walking shoes and a pedometer.
The American Heart Association recommends you walk at least 5,000 steps a day. If you are trying to lose weight, up to 10,000. The average person will walk 2,000 steps to complete a mile.
To get started, Riley says get a pedometer and find out how many steps you are taking in your normal day. Then, gradually work your way up to 5,000 steps.
What's the proper form?
Remain erect.
Don't bend over because your lower back muscles will begin to fatigue and cramp and possibly create back problems.
Walk with a natural stride.
Walk at a pace where your head is almost level and doesn't bounce up and down.
When you walk, keep your abs tight and try to keep your glutes tight.
How fast should you walk? At a pace where you're obviously not gasping for air. You should be able to carry on a conversation without you having to gasp or your heart rate going up and down.
To spice up your routine, try interval training - speed up briefly and then go back to a regular pace. Another way to add intensity is hills.
"If you were going to stretch, you want to stretch after exercise not before. There is absolutely no benefit. Studies demonstrate that stretching doesn't prevent an injury. It's not designed to warm you up. It's designed to increase range of motion," says Riley.
Whether it's your first step or your millionth step, now there's a way to make each step more rewarding. You may be eligible for a variety of coupons, special offers and Walgreens gift cards just by participating in "Walk with Walgreens" - a program designed to inspire and support your stroll toward a healthier lifestyle. For more, log on to walk.walgreens.com.
For more information:
Dan Riley
Strength and Conditioning Consultant
riley1019@gmail.com
Walk with Walgreens
walk.walgreens.com