Mirror/Mirror Episodes
Vintage Handbags Get New Life for Good Cause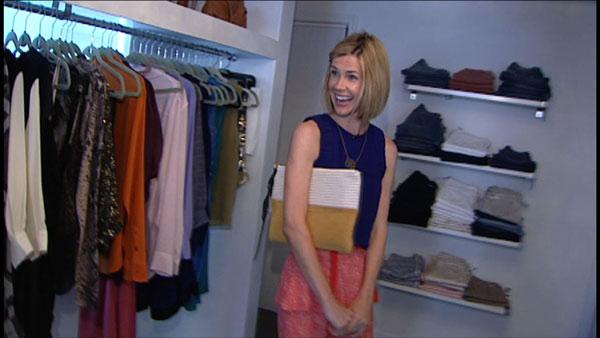 We all have outdated or worn handbags in the back of our closets. Instead of tossing them, consider this: one non-profit is turning fashion trash into another woman's treasure, all to benefit a good cause.
When Margot Delarone decided to donate her grandmother's old handbag to charity, she chose an organization called Magpies and Peacocks. It landed in the hands of founder Sarah-Jayne Smith. "Magpies and Peacocks is a local non-profit. We collect and up-cycle fashion accessories," says Smith. "People will bring their used goods, mainly handbags and jewelry, for us and we assess whether they're in great shape or they need help," she explains. If the donated item is in good condition it gets resold to raise money for local charities. However, if the item is old, outdated, or damaged, it actually gets a brand new life. "We take the stuff that needs help and assign it to a designer, who basically reinvents it for us, and gives it back to us to resell. Designers come out of the wood work when there's an opportunity to work with great quality materials and on a fun project," she says. Today, up-and-coming designer Rahill Raheem gets the challenge of re-making Margot's grandma's bag. "Taking something that is vintage or already old, like it already has a story, and then giving it to me and letting me do whatever I want to it and bringing it new life - I think that's exciting and I like doing stuff like that," Rahill says. At first sight, she already has some ideas. However, during the several weeks that she works on the bag, her design changes again and again. Weeks later, it's time for Sarah-Jayne to finally see Rahill's finished piece. The organization chooses how and where each new bag will be sold. Rahill's bag will be sold at Cakewalk Style Shop. "We stock our shop with very special pieces that we love. Our customers know that they can come here and find spectacular pieces, and this is a one-of-a-kind so I know that we'll find the perfect buyer for it," says Cakewalk co-owner Jennifer Grigsby. The bag soon sells, bringing its story full-circle. The money from the sale goes to Houston charities. "It's very important for people to realize that their stuff counts. Not just keeping fashion out of the landfill, but making a monetary difference with those pieces& and at the end of the day, the money goes straight back into a local cause. We've made something out of nothing. It's fashion compassion," says Sarah-Jayne. For more from Sarah-Jayne Smith and Magpies and Peacocks, visit
magpiesandpeacocks.org.
For more from Jennifery Grigsby and Cakewalk Style Shop, visit
cakewalkstyleshop.com.