Mirror/Mirror Episodes
Trendy Menswear-Inspired Outfits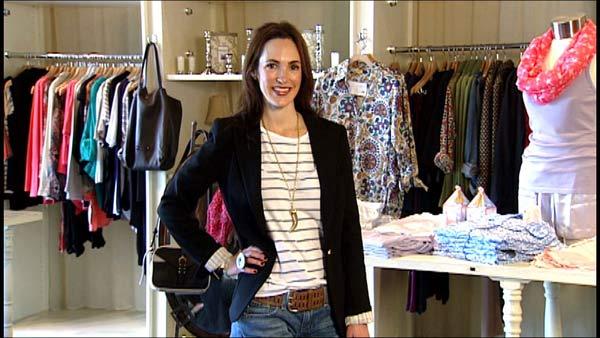 From casual to classy, women can take simple pieces that men wear every day and make them fashionable and fun. Check out how some of our stylists embrace the menswear trend.
Fashion stylist Wendy Norwood Patterson loves men's inspired style because it's so versatile. Her favorite piece is the tuxedo jacket. She pairs it with a flowy top, mixed media leggings (she likes to balance something looser with something slimmer), ankle boots, and flashy jewelry. For a more casual look, she pairs her tuxedo jacket with a plain gray t-shirt, a pair of skinny jeans, and a pair of patent leather oxfords. Boutique owner Lindsay Mousoudakis also picks a jacket, but chooses a blazer-style. "It's not your typical blazer. It's your menswear inspired blazer. That's because it's a little bit longer, it has the pin-striped detail on the cuff, and it's even got the shoulder pads," she explains. Her loafers are menswear inspired but feminine with an animal print touch. She pairs it with a fun belt, boyfriend jeans, and fun jewelry. Stylist and blogger Valerie Anderson goes for feminine silhouettes with more masculine color scheme and hardy texture. She starts with a leather skirt, adds lace-up booties, tights with a men's tie print, and a fitted plaid blazer. She finishes the look with a bag inspired by a briefcase. Fashion blogger and buyer Valerie Dittner mixes a more eclectic style. "So, when I think boys town, I think slouchy and casual, but also sophisticated. I think a woman who wears a man's shirt kind of knows where she's been and knows where she's going," she says. She usually thinks of a man's shirt for day, but she styles it for night, topping it with an animal print stole. To add a little more fun she pairs it with sequin shorts, black tights, and black heels. "This season's men's look isn't about being so tailored. It's more a rumpled men's shirt, so I rolled up the sleeves, and just buttoned two of the buttons, and left it out so it's more casual, almost that pajama type of feeling. But with sequins and fur, I'm still super-cute and ready to hit the town," she says. For more from Wendy Norwood Patterson, visit
wendynorwood.com.
Clothes from
Dillards.
For more from Lindsay Mousoudakis, visit
musehouston.com.
For more from Valerie Anderson, visit
styletoenvy.com.
Clothes from
Bevello.
For more from Valerie Dittner, visit
adornyourselfaccordingly.com.
Clothes from
Muse Boutique.