Mirror/Mirror Episodes
The Best Ways To Wear Black and White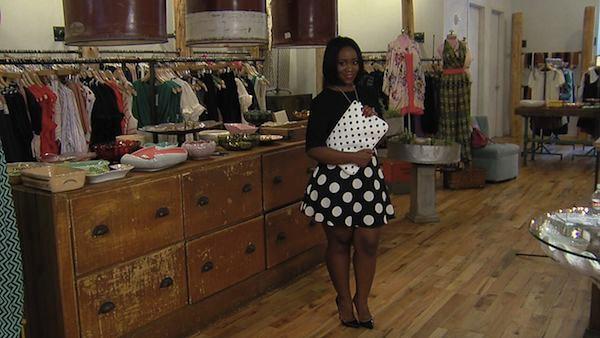 While it was once a fall-only trend, the classic pairing of black-and-white is starting to show up on runways year-round. Here are some great ideas for how to work black and white into your wardrobe.
Image Consultant Andrea Bonner's Tips
Black and white is seasonless trend that anyone can wear at any time, Andrea says. She wears a white pant suit with black tuxedo stripe because it's slimming and elongates the leg. "White can add weight to you so choosing something that's very structured in its detailing will help to offset that," she says. A pop of orange color in the shoe makes the outfit modern and fresh. A tip for wearing white: Off-white verses stark white may look better on some skin tones.
Stylist and Blogger Val Anderson's Tips
Val loves black and white because it works like a neutral. "It's one of the easiest colors to wear and a great, simple color combination," she says. "The way I love to wear black and white is to mix it up a bit and have a little fun." Val chooses a white faux-leather dress, a perfect sheath that will work all year long. "The little black dress always works, and so does the little white dress. It's an update to the classic wardrobe staple," says Val. She topped it all off with a striped black and white blazer to bring in a little bit of black and also to add interest with texture. She finished the look with a little pop in the shoe and added a blue statement necklace to tie everything together.
Fashion Blogger Tara Reynolds' Tips
"I like black and white because they're my go-to neutrals, and they always make me feel confident and sexy," says Tara. She starts with a go-to, long, black skirt and adds a striped shirt and blazer, noting that the stripe on stripe balances out the outfit. "Of course, black and white is the go-to neutral, but I decided to add a pop of color in a turquoise chain link earring, which really brings the look to a whole new level," she says.
Stylist Kesha Scott's Tips
"Black and white is just a classic It's never going to go out of style," says Kesha. She skips the pop of color for a metallic gold necklaces, a gold bracelet, and even gold high heels! If you choose the popular black-and-white horizontal stripe, Kesha says "the bigger the stripe, the better." Keep it above knee-length and go with an A-line skirt or a sheath dress that looks good on pretty much everybody's body shape.
Stylist Ashley Dunn's Tips
Ashley starts with black and white polka dots. "I absolutely love this skirt. It's a miniskirt, but it's A-line, which flatters every body type. I then paired my look with a basic black top," she says. For accessories, she stays within the black and white theme with a pendant necklace and layered bracelets. An over-sized polka dot clutch is the star of the show. The key to pairing polka dots with polka dots is to make sure the patterns are opposite and the sizes are different, Ashley says. For more from Andrea Bonner, visit
styleondemand.com.
Special thanks to
Neiman Marcus
for location and clothes. For more from Ashley Dunn, visit
AshleyDunnStyle.com.
Special thanks to
Langford Market
for location and clothes. For more from Tara Reynolds, visit
balloonsandmacaroons.com
Special thanks to
Langford Market
for location and clothes. For more from Val Anderson, visit
StyleToEnvy.com.

Special thanks to
Bevello
for location and clothes. For more from Kesha Scott, visit
her e-bay store.
Special thanks to
Langford Market
for location and clothes.