Mirror/Mirror Episodes
Striking Socks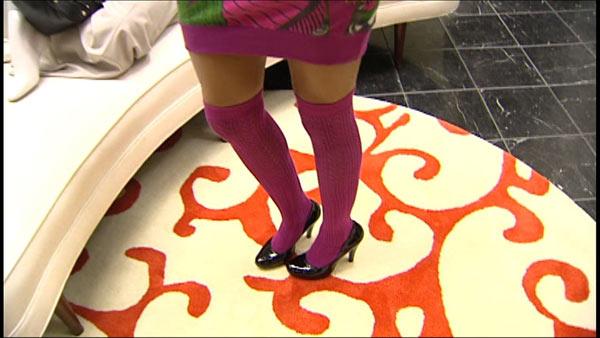 When people think of socks, they usually think of athletics or school girl uniforms, but not anymore!
Stylist Todd Ramos says, "The biggest trend right now is socks. Socks, socks, socks. Over the knee, calf socks, sock stripes, patterns, socks, socks, socks."
Here's how to really sock it to 'em this season:
Over-the-knee socks - position the top of the sock about an inch above the knee, but below your hem.
Over the calf socks - make sure the sock is OVER your calf, but below the knee. NOT right at your knee. It's not flattering and will just cut you off at the knee.
Scrunch the sock down for a young and trendy look.
If you have bigger calves, don't pick busy patterns.
Pair socks with pumps, booties, peep toes and high boots (but make sure there's a little bit of sock showing).
Don't let the seams of your socks show! Tuck them under your toes.
Think age-appropriate when showing your thigh. Any more than three inches is a no-no, but you don't have to show any at all.
Wear leggings or tights UNDER your socks.
Feel free to borrow trouser socks from the boys!
If you choose stripes, make sure they are lined up straight!
For more information:
Todd Ramos
Stylist
www.toddramosstyle.com
Sock styles from:
Target
Charlotte Russe
Special thanks to Tootsies for location and models' wardrobes:
www.tootsies.com