Mirror/Mirror Episodes
Spring 2012 Handbags and Shoes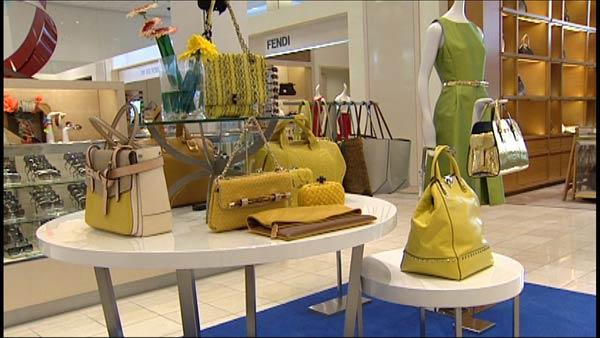 Accessories make the woman, and our friends at Neiman Marcus want to see stylish ladies this spring.
Public relations manager Stacey Swift says handbags and footwear are getting all the attention this season.
But before we get Stacey's list of top picks, there's a new trend in handbag holding! No more carrying purses in the crook of your elbow like a "little old lady." Instead, grip the top of your bag through/beneath the handle, or hold the handle down near your leg (like you would a clutch).
More things to notice for spring:
HANDBAGS
YELLOW
The new neutral for the season
Pairs with anything
DAY-GLO
Neon orange, pink, green, yellow -- think bright and bold bags of every size and style
Works for daytime or evening
CLUTCHES
Bigger and better than ever this season, in every size and color
If your clutch comes with a chain attached, wrap it around your wrist twice, like a bracelet.
Go for a box clutch any time of the day
TRIBAL
Animal prints
Rich colors like dark brown, burnt orange, and aqua
Don't skimp on the fringe!
SHOES
ANYTHING COLORFUL

From platforms to flats to rain boots
SILVER
Metallic colors have been in for seasons, but right now the spotlight's on silver
Runs the gamut from sterling to gunmetal gray
Again, works for day or for night
TRIBAL WEDGES AND PLATFORMS
Look for patterns extending around the sides of the shoe
For more information:
Neiman Marcus
www.neimanmarcus.com