Mirror/Mirror Episodes
Shopping at Discount Chains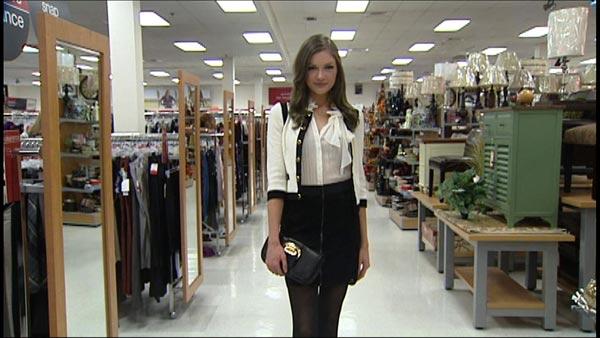 Fashionista and blogger Lindsey Calla knows how to shop, especially when it comes to discount stores like TJ Maxx. She says most people are overwhelmed because they don't know where to start and where to find deals among the aisles.
"Right when you walk into a half price store, you always want to go straight towards the high-end designer merchandise because that's where you're going to get a lot of your inspiration and ideas," says Lindsey Calla creator of the blog, SaucyGlossie.com.
If you find a great outfit in the designer section, you'll probably save a bundle. However, if it's still out of your price range, take the inspiration and head to the main section to find a similar look for less.
Here are some of her other favorite discount shopping tips:
Look for something unique that stands out. This is a great place to experiment with trends, since you can buy them cheap and wear them for one season without guilt.
Size doesn't matter! Remember, if you save on a piece of clothing, you'll probably have enough left over to have it tailored.
Don't judge the clothes by the hanger! If something looks big, bulky, small or awkward on the hanger, but it catches your eye, try it on! You might be surprised by the look and the savings.
Look for unique details that make clothing look much more expensive than it is.
Scour the whole store. It's not unlikely to find a great item in the wrong section.
Do a lot of digging, especially in the handbag section, since clutches can sometimes be piled high on shelves.
For more information:
Lindsey Calla
www.saucyglossie.com
Special thanks to TJ Maxx. For more informaiton visit www.tjmaxx.com.