Mirror/Mirror Episodes
P90X-Inspired Workout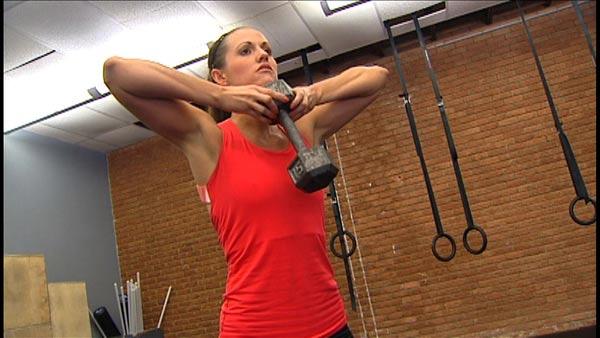 Sometimes sticking to workout videos like P90X, Insanity, and Shred can be challenging and you don't need to do an hour workout to see results.
Personal Trainer Charlie Gerszewski shares a few of his favorite workouts, and all you need is twenty minutes and a set of dumbbells. He says, "If you consistently do these movements three or four times a week, you will see results."
10 to 15 DUMBBELL WEIGHTED SQUAT JUMPS
Squat down with the dumbbells by your side and jump up as hard as you can and back down into a squat.
The squatting tones the behind and the jumping explosiveness adds a cardiovascular aspect.
15 to 20 DUMBBELL WEIGHTED HALF TWISTS
Sit on the ground with your feet in the air. Grab toward the top of the dumbbell and twist from side to side tapping the dumbbell on the ground each time you rotate.
If this is too challenging, try the exercise with your feet on the ground.
This works the middle abs, oblique muscles and even arms.
10 to 12 DUMBBELL CLEAN AND JERKS
With the dumbbells on the ground, squat down, grip the dumbbells, stand up out of the squat, bring those dumbbells over your shoulders into a partial squat, and do a shoulder press. Then start back at the beginning. Start with gripping the dumbbells while they're on the ground
This is a full body workout, with a focus on the legs and shoulders.
15 SUMO DEADLIFT HIGH PULLS
Start in a sumo squat position (standing with feet a little wider than hips and pointed slightly out), squat down, grab the dumbbell, drive out of the squat, and left the dumbbells to the chin.
This workout targets the legs, glutes, and upper body.
5 to 10 MAN MAKERS
You're going to start with your dumbbells in your hands by your side; drop them down to the ground right in front of you; kick your feet back; do a push up; come out of a push up, hold the plank position on the ground; row with your right hand and then your left hand; hop your feet back in; stand up with the dumbbells to your shoulders; squat; and then drive those dumbbells overhead.
This is the ultimate full body resistance workout that will also get your heart rate up.
For more information:
Charlie Gerszewsk, owner
G6 Fitness
www.g6fitness.com
281-415-5943