Mirror/Mirror Episodes
Oily Skin Solutions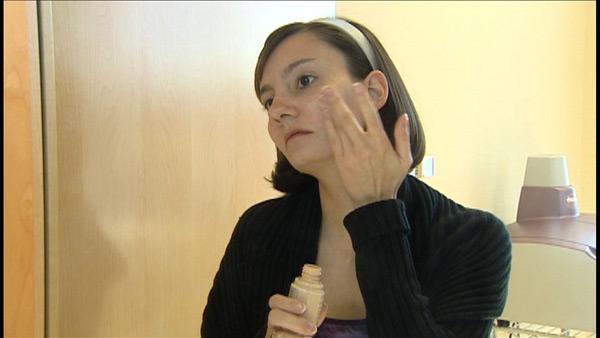 Oily skin isn't just troublesome for teens. Adults struggle, too. Here are some options - from drugstore to doctor's office - to get rid of the shine.
Dermatologist Melissa Bogle, MD, says oily skin is caused by genetics or hormones and it's something that affects men and women of all ages.
"Generally, as we get older the skin does get drier and produce less oil. But it's really a myth that only teenagers get oily skin," Dr. Bogle says.
However, she says scrubbing is not the solution. The primary mistake people make is over-drying the skin or using ingredients that are too harsh. It doesn't work because the oil glands are going to sense dryness on the surface and can increase oil production. So, the efforts are working against you.
Instead, Dr. Bogle says start the day with a gentle cleanser like Purpose, Neutrogena Oil-Free Acne Wash, SkinMedica's Foaming Cleanser or SkinCeutical's Glycolic Cleanser.
After cleansing, the next step is to apply something to help absorb oil throughout the day. These are generally mattifying products and they come in different categories. Some are polymers that actually absorb many times their weight in oil as they're lying on the skin. Others you apply under your makeup in the morning and then over your makeup throughout the day (like the OC-Eight brand).
Powders and blotting papers are also a great option. Blotting papers can be made out of different ingredients, but Dr. Bogle says they all absorb oil and work equally well.
"Makeup won't really reduce your production of oil and makeup doesn't really absorb oil& The purpose of makeup is just coverage for the skin and to make the skin appear more even," says Dr. Bogle.
She adds that "mineral makeup" is a buzz word and it's not necessarily better for the skin. What it means is that it usually contains a titanium base that stays on the skin surface, so it's less likely to clog pores.
At night, you want to cleanse again with the same cleanser you used in the morning. If you don't have sensitive skin, try a toner, which helps remove any excess oil and dirt. Then, layer on a prescription Retin-A or Retinol product.
"One of the newer theories on oily skin is to apply a light, non-clogging oil to the skin so your oil glands sense that there's enough oil on the skin and don't produce quite as much oil. So, several lines have come up with 'normalizing oils' that can be applied to the skin at night," says Dr. Bogle. However, if your oily skin is caused by hormones, normalizing oils may not work.
If a daily routine doesn't dry up your skin, don't be afraid of prescription products thinking that they're too expensive. Dr. Bogle says, "You will have a visit to your dermatologist, but one of the best products for reducing oil is a prescription called Spironolactone&. Another prescription that can help is the birth control pill and several of them actually contain a derivative of Spironolactone."
Certain peels can also help with oil production, but they don't actually act on the oil gland. So, you're not reducing the production of the oil. What they do is help cut through the oil and clear the pore Dr. Bogle says. One of the peels best known for this is salicylic acid, but other peels such as glycolic acid or retinoic acid also work well. These are peels that can be done at some spas and at doctors' offices, but they are not done at home.
If you've tried everything else for your oily skin, one of the last options is laser. Lasers basically heat up the background water in the skin and by doing this they can shrink the oil gland. However, it's an expensive treatment that doesn't work for everyone. If it does work, the results can last about a year.
"My advice in general is, I think if you've tried things at the grocery store already, or the drug store, and you're just not getting that oil production controlled, it's worth a visit to the dermatologist and they can run some labs and check your hormone levels and see if there's a cause to your oily skin," says Dr. Bogle.
For more information:
Dr. Melissa Bogle
Dermatologist
Laser & Cosmetic Surgery Center of Houston
713-622-1720
http://www.lasercosmetic.com/index.html