Mirror/Mirror Episodes
Mommy and Me Dressing Tips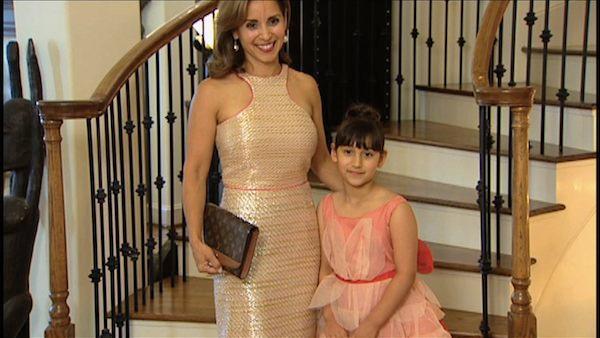 Fashionista Donae Chramosta and her daughter, Bella, wrote a book about the world of fashion and the importance of inner beauty -The Vintage Contessa and Princessa. Learn about their book and the real life fashion the book inspired, and get some tips for dressing alike with your daughter (or mom!) while still looking stylish.
"Originally, I wanted to write the Vintage Contessa and Princessa with Bella to explain to her that life isn't just about fashion and looking fabulous all the time. There's a much deeper meaning. It's really about our beauty on the inside and about special moments with friends," says Chramosta. While writing the book, Chramosta told her friend, designer David Peck, about the story. Peck volunteered to bring the character's dresses to life. Chramosta's daughter has had so much fun dressing up as the characters, so Chramosta decided to take it one step further and teach women ways to coordinate with their daughters on special occasions. Here are some of her "Mommy and Me" dressing tips: 1. Coordinate one portion of the fabric, such as a print or texture, but avoid an exact match in the style of the dress. So, mom can wear a print in her skirt, while the daughter in her shirt. 2. Start with the same palette, such as a white T-shirt and pants. Then, go for similar styles, such as tweed jackets, in the same color scheme but not exact. 3. Start with a print from the daughter's closet. Then, mom can choose a solid that matches one of the colors in that print. Let the accessories be matchy. For example, stick with the same metal and color on both mom and daughter. 4. Instead of looking for an exact color, stay in a color family. For example, variations of peach in different fabrics can be a very beautiful way for mom and daughter to coordinate. 5. Stick with a classic color palette that's easy to mix and match. For example, black and white. Daughter wears a black and white printed dress. Mom wears a tweed dress that includes black and white. Grandma wears a solid white dress but brings the trend in by wearing black and white accessories. 6. Be age appropriate! While originally Chramosta wrote The Vintage Contessa and Princessa as a way to teach her daughter life's lessons, she didn't expect a life-changing event to happen so suddenly. "We chose one of her best friends to be in the book. She is my best friend's daughter, and in the process of writing it, she was diagnosed with cancer. So, we've included a charity as part of the book, so it's a way of paying it forward in life," says Donae. Proceeds go to the Scarlett Fund at Memorial Sloan Kettering Cancer Center. A portion of David Peck's dress sales also go toward Pediatric Cancer. For more from David, visit
DavidPeckUSA.com.
For more from Donae Chramosta, visit
vintagecontessa.com.