Mirror/Mirror Episodes
Lip Savers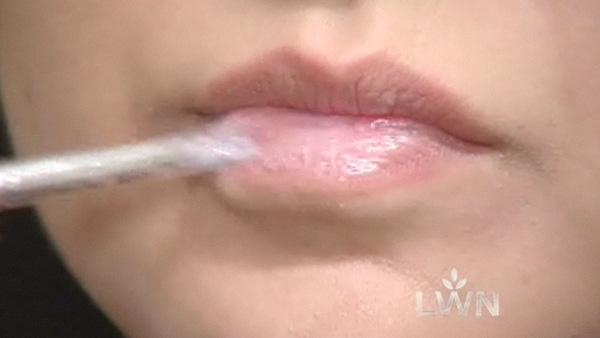 It's time to honor thy lips and learn how to pamper them with these 10 commandments.
Your lips are the first thing someone sees when you speak. Thus Heather Hughes, the self-described "Moses of Makeup," sayeth how to make their shine stayeth:
I. Thou shalt always lip condition -- be sure to lock in moisture with balm containing coconut oil, olive oil or cocoa butter.
II. Thou shalt exfoliate -- mix a spoonful of sugar with a few drops of honey to make a "sweet" lip scrub but be sure to rinse well.
III. Thou shalt pause for tea time - black tea is great for lips. Take your tea bag and run it under warm water, place it on your lips, keep it there for five minutes. It helps with cold sores, has vitamins A, D, and E to help bring back plumpness, smooth out the lines and get rid of chapped lips.
IV. Thou shalt brush thy lips -- brush your lips with a toothbrush to exfoliate, plump and bring back brighter color.
V. Thou shalt not fret over a cold sore -- a quick home remedy for a cold sore is to mix an aspirin and water into a paste, apply it to your cold sore at night and rinse the next morning.
VI. Thou shalt use medications -- applying hydrocortisone to your lips can help clear up any irritation, especially during winter, and allow lip conditioners to work better.
VII. Thou shalt make thy own lip plumper -- apply lip gloss or balm to your lips then apply cinnamon extract or cinnamon leaf oil as a homemade lip plumper.
VIII. Thou shalt use eye color for lip color -- think outside of the box and mix eye shadow with clear lip gloss to make your own lip color.
IX. Thou shalt use lip stains -- they're not as scary as they seem and they last a long time without smudging. Use a gloss on top for extra moisture.
X. Thou shalt take advice from the pros -- dig that last bit of lipstick out of the tube and put it in a pill box so you don't waste an ounce.
For more information:
Heather Hughes
Makeup Artist
www.huesbyheather.com