Mirror/Mirror Episodes
Humidity Proof Your Hair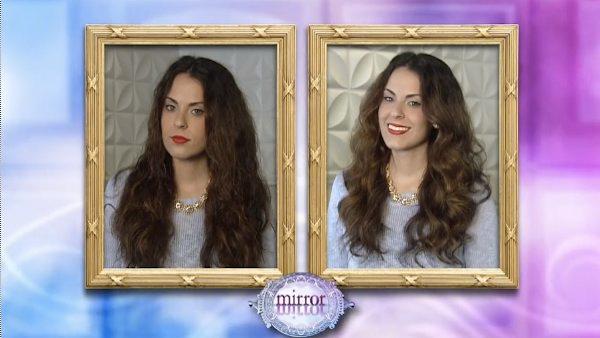 When hot weather hits and humidity rolls in, bad hair generally follows. Here's how to weather-proof your strands this season.
"Humidity can cause two types of things. One with too much moisture, having your hair being stringy and lifeless. The second would be lack of moisture, which adds dehydration and frizz to the hair," says Suleiman Telfah, stylist at Therapy Hair Studio. Here's how to fight both and have fabulous hair.
If you have really curly hair:
Finding the right product is key, says Suleiman. The first step is mousse, which he says protects from the humidity outside. Suleiman chose Marc Anthony True Professional from the drugstore. Take a golf ball size amount and apply root to end. Apply to damp hair and comb product through. Next, diffuse the hair to keep the natural curl in its form. This is going to cause it to be less frizzy and more of a natural curl. Next, curl hair with a curling iron. Using heat on the hair will enhance natural texture, add more shine, and hold the style. Take a very wide-tooth comb and comb the hair out. Last step, use Kevin Murphy Session Spray, which is an anti-humidity hair spray. "Your hair might be curly, but it won't be frizzy, I promise," says Suleiman.
If you have fine, straight hair:
Women with straight locks can't escape the humidity either. If you're hair looks dull and frizzy when humidity hits, here's how to tame it. Suleiman starts with Kerastase Elixir Ultime serum, which gives shine and eliminates frizz. Next, dry your hair. It doesn't have to be perfect. Use a curling iron and curl the hair in sections backwards and away from the face. Brush it out, taking the comb from the roots through the ends. Another option is to pin the hair up in sections so the curls will last until later in the day. To get a pretty updo that holds the curl, take two sections on either side of the head, pull to the back and cross. Put two pins in an X-shape to hold the hair, and then repeat with two more sections, crossing them and pinning them underneath. Then take the remaining hair and wrap it around, pinning it like a bun. This style will look great all day and you can pull it out and have pretty curls for the evening.
If your hair gets stringy and greasy:
All you need is dry shampoo! Yes, even on clean hair. Suleiman likes Kevin Murphy Fresh Hair because it will eliminate oil, frizz, and get rid of some of the separation in the hair. Apply it roots and through the ends. Then fluff hair so it looks freshly blow-dried. You can apply the dry shampoo once or twice a day, as needed. For more from Suleiman, visit
therapyhairstudio.com.