Mirror/Mirror Episodes
How to do a Tabata Workout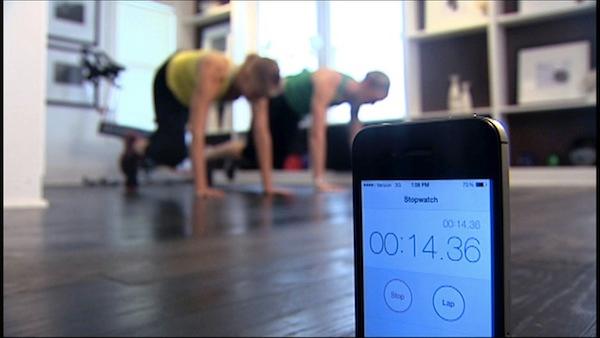 If you're short on time, there's a new fat-burning workout trend in fitness that you can do in just four minutes!
"Tabata is a four-minute workout. During this, you have 20 seconds of work followed by 10 seconds of rest for eight rounds of the same exercise," says personal trainer Kinsey Cave. It may sound too good to be true, but through research, Dr. Tabata has proven it works. "In the original study by Dr. Tabata, one group did 30-minute workouts four days a week, while the other group only did the four-minute Tabata workout four days a week. The Tabata group actually out-performed the control group in the study. These results seemed so unbelievable that people simply didn't believe it until they replicated the study over and over and got the same results," Kinsey explains. The original study was done on a bicycle, but there are many exercises we can use in Tabata training. It sounds like it will be easy to work for twenty seconds and take ten seconds off, but those ten seconds go by fast. The good news is in eight rounds, four minutes, you're done. The key to doing these exercises is to maintain good form and start and end in the same position. For example, if we start on our toes doing pushups, we need to stay on our toes. Some examples of workout so try:
Mountain Climbers: Get into a full plank position and jog legs into chest.
Sprints
Squat Jumps: Squat down with hips back, drive hips forward and jump.
Squat Thrusts: Squat down, hands on ground in push up position, jump legs out behind you into a push up position, hop legs back in, and jump up. Repeat.
Ski Jumps: Squat down, lift right leg and with left leg use glutes to jump right. Lift left leg, using right leg, jump to left.
Bike: Push yourself hard with a higher resistance for the 20 seconds (low impact).
Elliptical Sprints (low impact)
Pushups (low impact)
Squats (low impact)
This four minute workout is effective, but Kinsey warns that you need to start slowly if you're not used to exercising. "You need to ease yourself into this workout because it is very intense and extremely taxing on the body. I recommend when you start working out you should start out by doing a 30 second interval at a high intensity and maybe only doing a few intervals at a time and then work way up to four minute workout," Kinsey says. For more from Kinsey, visit
TrainFit.com.