Mirror/Mirror Episodes
How to Wear Denim on Denim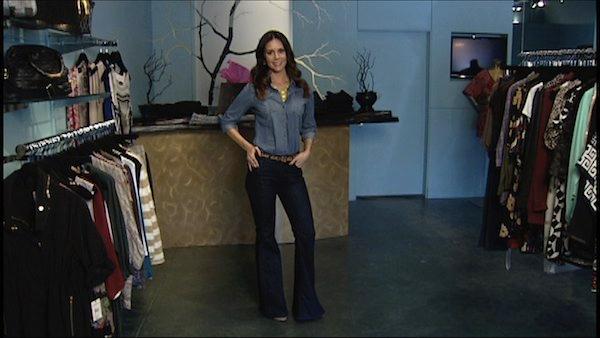 If you'd like to wear the denim on denim trend, but aren't quite sure how to pull it off, here are tips from some great fashionistas on how to make it work in your wardrobe.
Personal Stylist and Fashion Blogger Karli Gillum
Karli pairs a denim button-down shirt with a pair of high-waist jeans.
She chooses to match a lighter wash shirt with a darker wash jean. Mixing the color or wash of denim is key to making this look work.
To pull everything together, she adds a leopard print belt. A patterned belt adds a chic touch while separating the denims.
To polish off the denim-on-denim look, she adds a yellow statement necklace to give it the ever-so-important pop of color!
Stylist Ashley Dunn
Ashley starts with a basic denim shirt. The key to this trend is not to worry about matching, but allowing the denim to flow from each other.
Her denim shirt is light, but her skinny jeans are a dark wash.
Her tip: Always remember when shopping or the perfect pair of jeans, dark jeans washed jeans flatter almost any body type.
To complete the look, she adds a frayed denim vest and Boho bag.
Fashion Blogger Tara Reynolds
"I'm a busy mom, so when I think about denim on denim, I think of the weekend, running around with a three year-old, and how I just want to be comfortable and stylish at the same time," says Tara.
She puts together two denim pieces: a skinny jean that's a darker wash with a lighter wash shirt.
To add interest and draw the eye from the top to the bottom, Tara adds pops of turquoise from her necklace to the toe of her shoes.
She says most people don't realize that denim is a neutral when it comes to your closet. You can pair it with anything.
For more from stylist Karli Gillum, visit
fashionbillie.com.
Special thanks to
Carrie Ann Boutique.
For more from Ashley Dunn, visit
her facebook page.
For more from Tara Reynolds, visit
BalloonsandMacaroons.com.
Special thanks to
Langford Market
for location and clothes.