Mirror/Mirror Episodes
How to Wear Blue Eye Shadow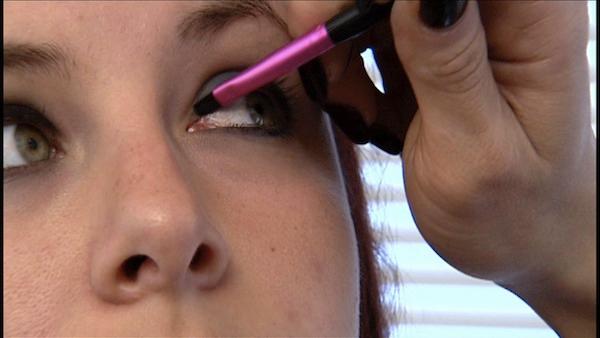 After the eighties, many of us retired blue eye shadow from our makeup bags. Now, it's back and better than ever, but the key to wearing blue eye shadow beautifully is how you wear it.
"Most people, when they hear blue eye shadow think Barbie blue or sky blue, but I'm going to use navy, and it's going to be very modern," says makeup artist Jessica Alston.
How to Do A Navy Smoky Eye
1. Start with CC Cream on the lid and under the eye. It will catch any fall-out from the shadow that may sprinkle down. It will also act as an eye shadow primer to help the product last longer. 2. Next, instead of powder eye shadow, try a cream-to-powder shadow (in navy) because it's easy to blend. Using a brush, add product along lash line and dab with finger, smoothing product up and out so it fades from dark to light. 3. Next, using the cream to powder shadow, brush small strokes of product on the bottom lash line from the outside in. 4. Then, go back and line the top lash line with the cream to powder product for impact. 5. Add thin black liner close to the rim of the eye on the top lid, and then, dab a bit of liner on the outer corner of the bottom lid. 6. Take a light, shimmery shade of eye shadow and dab it under the brow bone as a highlighter. 7. Apply mascara.
How to Apply Two-Toned Blue Eye Shadow
When applying two shades of color, never apply color on top of each other horizontally. Instead, apply the colors next to each other. 1. Apply the first color in a triangle-shape on the lid at the inner corner of the eye, extending to the middle of the eye. We use pastel blue. Cream to powder shadow works well on this look, too. Then, use your finger to blend outward. 2. Next, take a shade of purple and place right next to the blue color on the lid. Use finger to pat and blend colors together. 3. Next, add a thin line of black liquid or gel eye liner to the top lid. 4. Finish with mascara.
How to Wear Blue Eyeliner
Most people use bright blue eye liner and apply it from corner to corner on the top and bottom lid. Jessica recommends a navy shade. Brush light strokes along the top lash line. Then, on the bottom, just dab a little bit of liner on the outer corner of the eye. Lastly, add mascara. For more from Jessica, visit
TreSpaSalon.com.