Mirror/Mirror Episodes
How to Pick the Perfect Nashville Cowboy Boots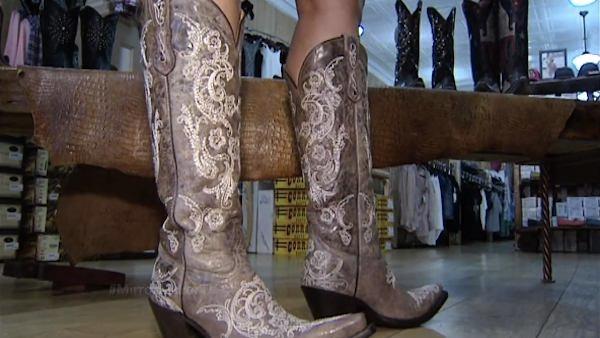 Your Nashville look wouldn't be complete without the perfect pair of boots, so the city's best boot shop shares how to pick the perfect cowboy boots for you and tips on breaking them in.
It's the city known for boots and music, so Betty Boots was on the Nashville shopping tour. Some of their boots have been featured on ABC's show,
Nashville
. "It is really exciting. We talk about it. 'Did you watch the show last night? Did you see what they were wearing? She wore those boots.' So it's fun," says Johanna Gooch, the manager and buyer for Betty Boots. She shares some of her tips to finding the perfect pair of cowboy, or cowgirl, boots.
Step One: Color
If you don't own boots, stick to brown or black. If you already own boots, get interesting with a fun shade or multi-color boots.
Step Two: Shaft Height
If you're a bit shorter, 10 inches is a good height for boots, but 12-13 inches is the standard. Shorter than a 10-inch is a PeeWee. It's more of a trendy boot. If you want to buy tall boots, they should hit at the knee.
Step Three: The Toe
There are five different kinds of boot toes:
Snip toe is the most popular. It's almost pointy, but snipped at the end.
Pointed toe is sassier, dressier.
Round toe is great for the girl who loves riding boots.
Square toe is really in trend right now and can be very comfortable.
J-toe is almost pointy, but rounded on the end. It gives a sleek look.
Step Four: Personality
Here are some great embellishments that add personality to your boots:
Leather on leather overlay and embellishments is very popular.
Embroidery is very feminine and adds color.
Studs and hardware add some edge.
Fringe is a major statement.
Rhinestones for the girly girl who wants a stage-style boot.
Tips on Trying On and Breaking In Boots
1. Wear gym socks or socks with extra padding. 2. Be sure the toes can move around. 3. Try lifting the heel of the foot up and down inside the boot. The heel should slip. When the leather softens, it will mold to the foot. 4. For tall boots, make sure there's enough room to get a skinny jean inside and that they don't hit the knee. 5. Ankle boots can be difficult to wear. Make sure they're not too tight and hit you at the right spot. Ask for a second opinion! For more from Johanna and Betty Boots, call (615) 736-7698 or visit their
facebook page.