Mirror/Mirror Episodes
How to Get a Salon Blow Out at Home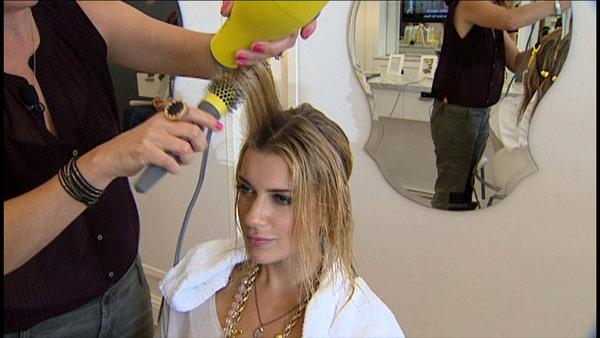 For a lot of women, blow-drying their hair is a chore. It's awkward, time-consuming, and expensive if you want to have it professionally done. That's why we asked Alli Webb, founder of the Dry Bar, for her secret tips to a long-lasting blow-out at home!
Tip #1: Shampoo
Super clean hair blows out really well. If your hair isn't clean, is greasy/oily, has build-up residue on it, it won't blow out well. Most women don't think of this as a tip, but it's so important to start with really clean hair. Alli recommends shampooing for a minute to a inute and a half to make sure you really clean your hair well.
Tip #2: Towel Dry
You want to towel dry your hair. Get all the excess moisture out of your hair so it's not dripping wet.
Tip #3: Add Product
Add product before combing. It's a great way to evenly distribute the product in your hair. Sometimes, if you comb your hair out, then add product, it can get clumpy and just is not as nice. Use about a nickel size, maybe a heat protectant or serum and mousse.
Tip #4: Comb.
When you comb, start with the ends and work your way up.
Tip #5: Rough Dry
When you're blow drying your hair at home, you want to get the moisture out of your hair, so rough dry it first. Once you've gotten the moisture out, section it off. This one of the most crucial parts of a great blow out. It's important to have good clips too. Alligator clips are great because they hold so much hair.
Tip #5: Dry
After sectioning, start in the front. It's the most important part and what people see first. If you can, use a ceramic brush. The barrel of the brush will heat up like a curling iron. You always want the blow dryer facing down because you want the cuticle of the hair to lay down. Another important tip is making sure you choose the right brush size. The smaller the brush, the more the curl. Then, you want to perfect each section before moving on to the next.
Tip #6: Cooling
After finishing, let everything fall forward and clip it with metal clips. Let your hair cool to give more lift when you take the clips out. After it's cool, smooth and curl hair with a curling iron if you'd like.
Tip #7: Styling
Set up a mirror in your house so you can see the back of your hair as well as the front. The front is important and what everybody sees, but you don't want to be walking around with bad hair in the back!
Tip #8: Finish it Off
To give Rebecca's hair shine and the texture, Alli first put some shine pomade on her hands, and then sprayed some hairspray directly on her hands over it. Then she went over the hair, putting some product in each section. For more from Alli, visit
thedrybar.com.