Mirror/Mirror Episodes
How To Apply Technicolor Eye Shadow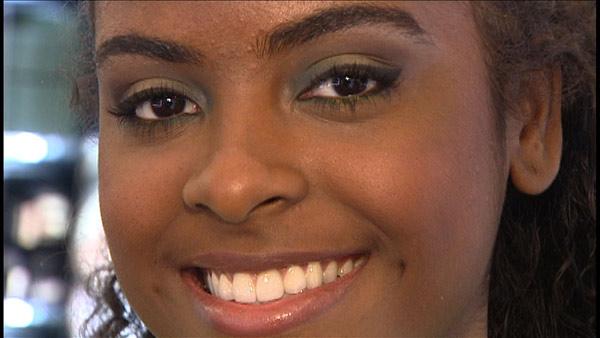 Don't be intimidated by super-bright eye shadow shades. Anyone can pull off this look! Get a few makeup application tips.
"Bright eye shadows are really on trend this season, but they can really intimidate the everyday woman," says makeup artist Sarah Tucker.
She says the key to making these colors wearable is to blend them with neutrals that we probably already have.
Here's the how-to for two amazingly colorful looks:
Enhanced Eye:
Start with primer for staying power and to get the best color payoff.
Always keep in mind that you want to blend your dark colors in to your light colors. So, start off with an all-over neutral shade on the lid from the lash line up to brow.
Load a bright yellow eye shadow onto your brush and literally press the product onto the center of the eye lid.
Add the second bright color (turquoise). Load a small bullet-shaped brush and press the product into the inner corner of the lid. Then, blend outward.
Add a warm brown color as the crease color. It'll help anchor the look and allow the bright colors just to be accents.
The next shade is black. Use a very small angled brush to add some intensity and depth in the outer corner. Blend well.
Finally, add a matte white shadow just under the brow.
Top the look off with black eye liner and mascara, plus peach lips and cheeks.
For added intensity, repeat the same colors on the lower lash line.
Smoky Eye with a Pop of Color:
Start with primer.
Add a basic neutral shade from lash line all the way up to the brow bone.
Step two, is a medium tone from lash line up to crease.
Next, load black shadow on a bullet-shaped brush and start to smoke the eye out. Apply a sweep of it to the base of the lashes, working it upward, diffusing the color into the middle tone above it.
Next, pick a bright shade (green) to use as an eye liner underneath the lash line. Apply with a small angled brush and literally just working it into the lower lash line.
Add thick black eye liner on the upper lid and smudge it upward into the shadow above it, keeping in mind you want your darkest intensity right at the lash line.
Top it off with a nice heavy coat of black mascara to frame the look, and neutral lips and cheeks.
More information:
Sarah Tucker
Education and Artistry Executive
Make Up For Ever
makeupforever.com
sarahtuckermakeup.com
*Special thanks to Sephora: sephora.com