Mirror/Mirror Episodes
How Jewelry Designer Chan Luu Creates Jobs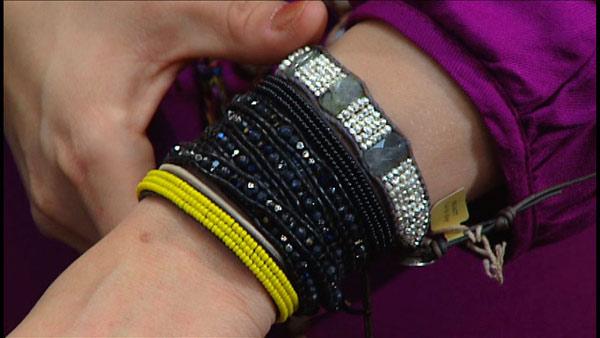 Global Designer Chan Luu is known for her jewelry, but you may not know the purpose behind it. Her goal is to create job opportunities in poor communities around the world.
"It doesn't matter where I go. I could look at the craft of the country and I could re-create it my way, a modern way. So everything I do has a story behind it. Everything I do is handmade. Every piece has gone through a lot of skilled hands before it gets to my customer. It almost has a soul to it," explains the famous jewelry designer.
But Chan Luu takes her designs a step further. She is doing what she loves but also creating jobs for people who wouldn't have jobs otherwise all over the world in impoverished villages.
"I have luckily achieved so much in my life already; giving back gives me so much joy. It makes me feel like I'm not really working," said Chan.
It's all part of her focus on ethical fashion.
"I designed this collection and taught them how to make this jewelry, and they make a profit from it. It's not charity. They are very proud of their work, and they want to prove to the world that they can really do it if give them a chance and I use my vision to create a sustainable commerce for them," she says.
Her famous wrap bracelet is made in her native country of Vietnam.
"We employ about 250 people who make this jewelry. To go back and help these poor people get jobs and go to school, it's a good thing," she explains.
Every little detail, down to the packaging, reinforces her mission to give back.
About two years ago, word got out about Chan's success and the Clinton Bush Haiti Fund reached out for her help after the earthquake there.
"In Haiti, they barely have any resources, so what we did was we used recycled magazine newspaper paper, and taught them how to make paper beads, and we made a collection out of paper beads. So, it's all recycled stuff," she says.
Most recently, she got an invitation to partner with the United Nations Ethical Fashion Agency on a project in Kenya.
"If you help one woman to earn a living, she can support six persons. One income could take six people out of poverty. When you measure that, it's overwhelmingly exciting to see how that works. Thinking about if you help 1,000 people then 6,000 people have food to eat. Just thinking about that makes me want to work," says Chen.
Others, like store owner Jay Landa, want to jump on board. His is the first jewelry store in the U.S. to launch the Kenya designs.
"The best part about this collection is the price. It starts at $28 through $135, so it is priced with a purpose," he says.
"You know we live in the U.S. and sometimes we're so clueless, right? I go to these villages and they have nothing. The next year they have four walls. The next year they have a roof -- so when you see something like that, it puts things in perspective," siad Chan.
For more information about Chan Luu's Global Designer/Ethical Fashion visit www.chanluu.com.
Special thanks to Jay Landa of J. Silver Designs.