Mirror/Mirror Episodes
Gorgeous Artisan Leather Bags from Stash Bags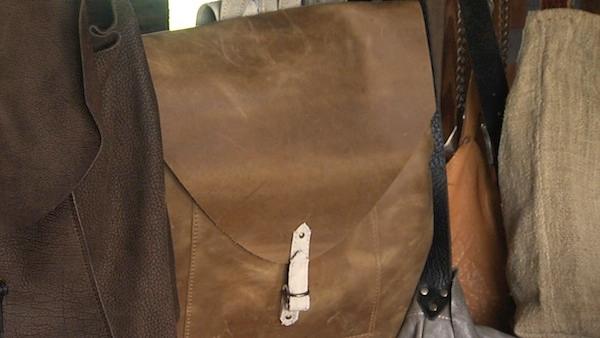 There are so many handbag choices out there, but here's one you can feel good about It's the story of an all-American couple who proudly designs, sews, and sells their leather line, all right here in the USA.
Driving by, you probably wouldn't look twice at the old, weathered, white building just a few yards from the railroad tracks in small-town America. "It's a 100-year-old mattress factory. My grandparents bought it in the mid-fifties and they continued the mattress production until the mid-eighties and then they closed the operation down and the building's just been sitting vacant and quiet until we came along," describes Cheryl Schulke, affectionately known as Stash. Her husband, Paul, and her artisan team spend hours there carefully crafting a line of leather bag and accessories. "It probably takes about a week to go through the entire process of one bag. It goes back to really made in America. Really with your own hands. Really doing everything," she says. You could say it's the American dream that Cheryl never planned. "I never was intending to be a bag maker. I was going to be a photographer and a writer. I had traded a cow hide for some photography work and then one day it hit me as I was going on assignment, this needs to be a bag. So, I cut it up and I threw a strap on it and I sewed it with my home sewing machine, and I went out on assignment and somebody wanted to buy the bag. So, I went and got another cow hide. I made about five more and hung onto them until friends wanted then and then my husband bought me an industrial machine so I didn't have to use my home sewing machine anymore. That's when we got serious because we had to pay for that machine!" she remembers. In time, word got out and the line grew. "I think our signature item in our collection would be the Market Bag. We have messenger bags. We have cross body bags. We have small bags for your phone and keys. We have going out at night clutches, and we have a new line of bags that are taking the textiles that I've been collecting for 20-plus years that you can carry on your arm like a show piece," says Cheryl. "I think what makes our bags unique it the time and the care we take to marry the right material into the right design, because we want our bags to have not only longevity for the person who buys them, but also an artistic legacy," she says. Customers also love that there's a bigger purpose behind the brand. "I think that what's happened out here that's pretty cool is that it's been a point of collaboration, not just on bags, but on other things. We are working on projects with various chefs. We have had musicians come out here and play concerts out here. We've had somebody record an album out here. We've had a book-maker come out. It's one of the things I'm most excited about," she says. Her unique view of the world and unrivaled designs bring business to her door. But as Cheryl sees it, there's much more to life. "I think you don't know how long you have. Nobody knows. If I make every day count with every person, whether it's my husband, my daughter, and everybody who works for me, that's where it is," she says. For more from Chery, visit
Stashco.MyShopify.com.
Special thanks to musician
Will Johnson
for the use of Rosanky.