Mirror/Mirror Episodes
Get Grandma Chic With These Vintage Style Tips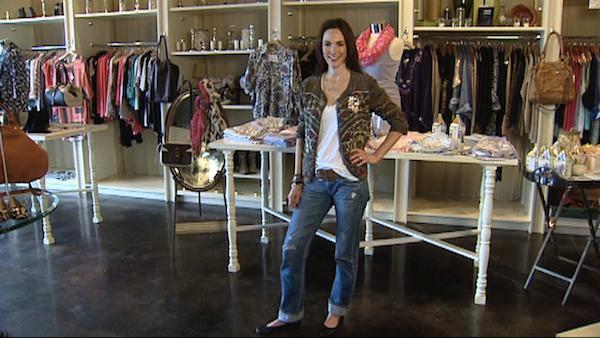 Granny gave you good genes and great style. Here's how to take grandma's pieces and make them modern and glamorous.
Boutique Owner Lindsey Mousoudakis
Lindsey starts with an embroidered jacket. It's a little bit oversized. It's something you could have found in your grandma's closet. However, when you do Grandma Chic, don't be too oversized.
Next, something she found in her grandma's closet a brooch! It's big and fancy. It's not something she would normally wear, she pairs it with fresh young pieces.
"I love wearing grandma chic, but when I do, I make sure everything else on my outfit is young and fresh and maybe a little trendy," says Lindsay.
Lifestyle Blogger and Image Consultant Magen Pastor
Prints were really big during the sixties when Magen's grandma was young, so she starts with a bold print with a pop of color.
Grandma makes Magen think of layers and knits, so she adds a roomy cardigan over top.
"The granny trend is a little bit hard to do, but if you remember to add in a bold print and layers, you're set," says Magen.
Fashion Blogge and Buyer Valerie Dittner
Valerie thinks the grandma trend has come into popularity because of Kate Middleton's popularity. Women want to look a little more sophisticated, a little more demure, and less like bombshells, she says.
To create a grandma inspired outfit, she paired a vintage dress from the 70s that had a demure print with puffed sleeves with some modern accessories.
"When styling grandma, everything else has to be really edgy, young, and easy going," says Valerie.
The Vintage Contessa Donae Chramosta
Donae loves vintage clothes and especially loves mixing them with modern accessories to create unique style.
She started with a 60s pillbox hat and a pink 70s shift dress.
Then she added fun accessories - a faux fur purse and oversized sunglasses.
"My grandmother, Nana, was such a fashion inspiration to me," she says. "I think can go to what our grandmothers loved and what they wore and make it modern to really have a feeling of heritage in our style." For more from Lindsay Mousoudakis, visit
musehouston.com.
For more from Magen Pastor, visit
magenpastor.com.
Clothes from
samandlili.com
and
brassthread.com.
For more from Valerie Dittner, visit
adornyourselfaccordingly.com.
Clothes from
Muse Boutique.
For more from Donae Chramosta, visit
vintagecontessa.com.