Mirror/Mirror Episodes
Fall Fashion for Every Budget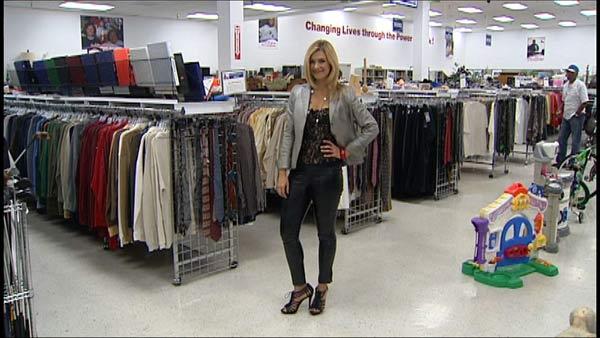 You don't have to spend a whole lot of money on fall trends this season! Here's how to look fabulous on a budget.
Jennifer Meneely, Pippa, and Valerie Anderson all love shopping for the latest in fashion, but they have different ways of putting together an outfit. "I love shopping at department stores, especially at places like the Impulse section at Macy's because they literally have everything you need," says Valerie. The wealth of options and sizes at the department store makes it easy for Valerie to create a red-themed outfit for Rebecca. She starts with a light-weight red shirt, adds Rachel Roy jeans with a tie-dye texture, and then pairs it with red boots with a gold zipper to bring in the rocker chic trend, finally layering on a black jacket. The entire outfit is less than $500. Valerie says when wearing the same shades for a monochromatic look, use at least three tones. When you use two shades, it can look like you just don't match! Next, Valerie pulls together a Rocker Chic look She starts with a black faux leather t-shirt, adds in animal print jeans and a red blazer and then accessorizes with a spiked necklace, skull bracelet, and studded handbag. "Red and leopard go together like peanut butter and jelly," says Valerie. "You can never go wrong." The jacket, shirt and pants together cost about $300. Target is also a great option to find trendy pieces, most under $30. Or you could score a designer find at a discount chain like TJMaxx. But you can also head to the thrift store to pull together a trendy outfit. Pippa and Jen from the blog Too Cheap Blondes show us how. "Trends are just that -- trendy. They come in and out of style, so getting your trendy items at a thrift store is the best way to spend your money," Jen says. Jen created a rocker chic look by starting with pleather pants, adding a black lace tank, layering a grey leather blazer and adding a pop of red with a bracelet. The grand total for Jen's outfit? Just $79, including a $30 leather jacket that retails for $3,000. Pippa puts together an outfit highlighting the casual "boystown" menswear trend that's hot this fall. Pippa started with some pointy-toe animal print heels, adding skinny jeans, a plaid vest over a basic shirt and an oversized coat, another trend this season. The cost? $52 for an on-trend fall outfit! For more from stylist and blogger Valerie Anderson, visit
styletoenvy.com
. For more from stylist and bloggers Jen Meneely and Pippa, visit
toocheapblondes.com
. Special thanks to Macy's,
macys.com
. Special thanks to Goodwill,
goodwill.org
.